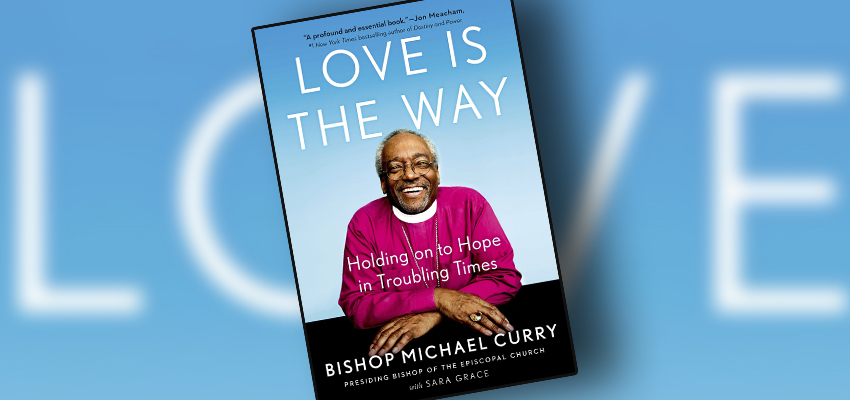 HWS News
9 September 2020 • Alums The Most Rev. Curry '75 Authors Love Is the Way
In his new book, the Most Rev. Bishop Michael B. Curry '75, Presiding Bishop and Primate of the Episcopal Church, writes about social and economic inequality, ideological division, faith and how love can offer a redemptive path forward, expanding on the sermon he delivered at the British royal wedding of Prince Harry and Meghan Markle.
Love Is the Way: Holding onto Hope in Troubling Times, which will be released Tuesday, Sept. 22 by Penguin Random House, explores through "the prism of his faith, ancestry, and personal journey…how America came this far and, more important, how to go a whole lot further," the publisher writes "This book will lead readers to discover the gifts they need in order to live the way of love: deep reservoirs of hope and resilience, simple wisdom, the discipline of nonviolence, and unshakable regard for human dignity."
The author of several other books, including Songs My Grandma Sang and The Power of Love, Bishop Curry has been an advocate for an inclusive, authentic ministry committed to racial reconciliation, equal justice and equal opportunity. He has led churches in Winston-Salem, N.C., Lincoln Heights, Ohio, and Baltimore, Md. In 2000, Curry was elected 11th bishop of North Carolina. In November 2015, he was elected as the 27th Presiding Bishop and Primate of the Episcopal Church, the first African American to serve in the church's highest role.
Curry earned a degree in religious studies from Hobart, where he completed Honors and was a member of the Hobart Student Association. He went on to earn a master's of divinity from Yale Divinity School. He served as a member of the Hobart and William Smith Board of Trustees from 1988 until 1992. In 2016, he returned to HWS to participate in the President's Forum and receive the Hobart Medal of Excellence, the Hobart College Alumni Association's highest honor. He was selected as the 2020 Commencement speaker and, after the graduation ceremony was postponed due to the pandemic, will deliver the Commencement address to the Classes of 2020 on June 6, 2021, where he will receive an honorary degree.