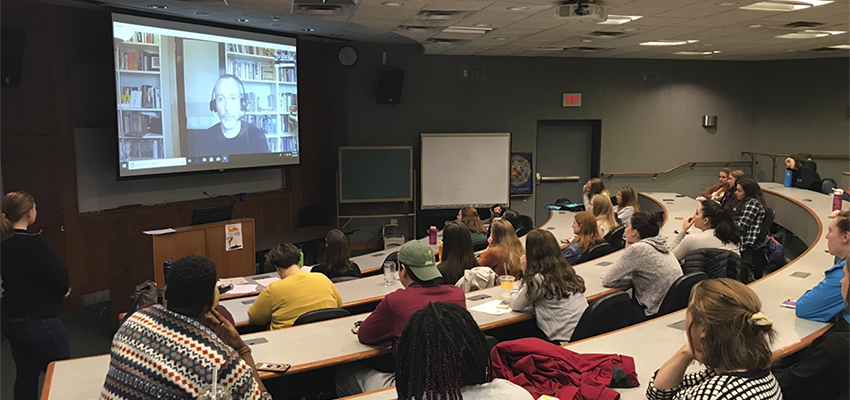 The Legacy of America Reads at HWS
18 May 2019

The Legacy of America Reads at HWS

The Center for Community Engagement and Service Learning (CCESL) recently held an event in celebration of the 30th anniversary of the Colleges commitment to tutoring that included a conversation with HWS America Reads co-founder Matthew Adams 89.
There are currently 125 HWS tutors, led by a team of 14 civic leaders, who support children at seven locations Lyons Elementary and Middle/High School, Trinity Episcopal Church, North Street School, St. Francis-St. Stephens School and at the Boys and Girls Club of Geneva in two programs. America Reads is a tutoring program that engages young readers in vocabulary and comprehension while the HWS Tutor Corps supports youth with homework help and pro-social activities.
The tutors interviewed Adams via Skype from the Sanford Room. Adams is the operations and education director for Fourth Pig, a Canadian non-profit that fosters ecologically balanced methods of construction and energy production.
As a Hobart student, Adams studied empowerment, civic engagement and literacy issues while working toward an individually created degree in social theory. Adams is credited with creating the Geneva Reading and Writing Workshop program in 1988 in collaboration with Joshua Hertel 89, Professor of Public Policy Craig Rimmerman, Professor of Education Charles Temple and Bird Stasz, who went on to become the HWS Student Literacy Corps director.
We were interested in starting a literacy program that was hands-on in the community, says Adams, who noted much inspiration came from Brazilian educational theorist Paulo Friere, who believed that literacy was a tool of empowerment. The response from our peers was overwhelmingly positive. Forty volunteer tutors showed up to the first meeting and it just grew from there.
Over the years, the program continued to take shape and was re-named the Student Literacy Coalition. Volunteers worked with children and adults at 10 locations, including churches and a Head Start program and eventually received the help of a federal grant. Within a few years, the program expanded to 40 locations, including a firehouse and migrant worker camps.
In 1997, when the federal work-study program was established by the U.S. Department of Education, the program evolved into America Reads. Today, it remains true to the goal of the original Literacy Corps. I was honored to have played a small part in a program that has persisted for 30 years, says Adams.
During the event, six students were named America Reads Tutors of the Month with CCESL Director Katie Flowers presenting Liam Cranley 21, Lea Filyk 21, Mykaluh Marcy 22, Grace Mongeau 22, Kara Nelson 19 and Caroline Pustay 22 with certificates while Tutor Corps members were recognized for their extraordinary commitment including Spencer Lerner 19, Helen Wagner Maggitti 19, Nicholas Rahaman 20 and Courtney Riffle 22.
At the conclusion of the interview with Adams, Flowers congratulated the Tutors of the Month for their leadership and commitment to local childrens school success, and thanked Adams for the spark that you ignited.
During the event, Joe Fantigrossi, Pre-K-12 Intervention Coordinator at Lyons Central School District also provided a training session focused on creating safe and supportive schools.