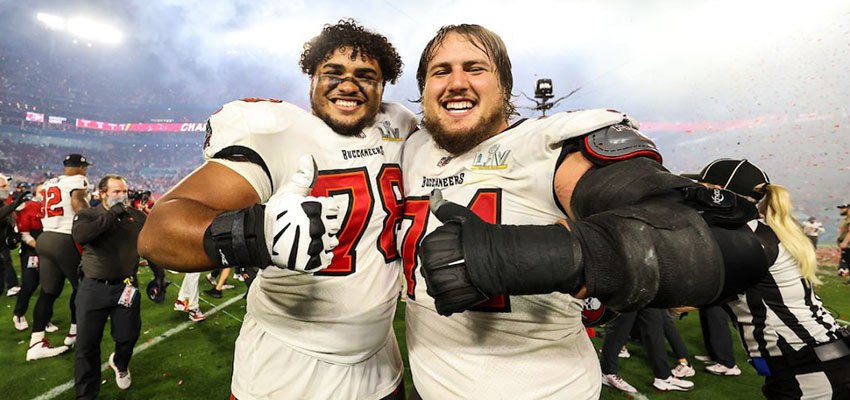 HWS News
8 February 2021 • Athletics Super Bowl Champion Ali Marpet '15

Ali Marpet '15 is a Super Bowl Champion!
The Tampa Bay Buccaneers starting left guard and his fellow linemen allowed the Bucs offense to put 340 yards while dethrowning the defending Super Bowl Champions from Kansas City 31-9. Marpet provided time for Super Bowl MVP Tom Brady to complete 21 of 29 passes for 201 yards and three touchdowns, while clearing the way for a rushing game that picked up 145 yards, including a 27-yard touchdown run by Leonard Fournette. The former LSU Tiger was sprung on his scoring run by Marpet, who pulled around the right end and opened a giant hole with a clear out block on Kansas City cornerbackn Charvarius Ward.
Visit HWS Athletics for more details on Marpet.
Kansas City earned its only lead of the game when it opened the scoring on a field goal. Brady gave Tampa Bay the lead for good with a short TD pass to tight end Rob Gronkowski. The Bucs led 7-3 at the end of the first quarter. Brady threw two more touchdowns in the second quarter while Tampa's defense limited Kansas City to just one more field goal and the home team took a 21-6 lead into halftime.
After the visitors cut the lead to 21-9, the Buccaneers responded with their fourth TD of the game. On Fournette's race to the end zone, Marpet cleared out the one KC player with a chance to limit the play to a short gain.
Tampa tacked on a 52-yard field goal late in the third quarter to complete the nights scoring.
Marpet is the first Division III player to start in the Super Bowl since Mount Union wide receiver Pierre Garcon played in the 2010 game with the Indianapolis Colts. Marpet is the first Division III player to earn the Lombardi Trophy since Middlebury kicker Steven Hauschka helped Seattle to the title in 2014.
Marpet's journey from Hastings-on-Hudson, N.Y., to Hobart College to the NFL was well documented in the weeks leading up to the Super Bowl. The four-time Liberty League Champion was named to four All-America teams following his senior season with the Statesmen. Hobart went 41-5 during his career, earning four straight NCAA playoff bids including quarterfinal appearances in 2012 and 2014. The 61st overall pick in the 2015 draft made him the highest selection ever for a Division III player. Now in his sixth season as a pro, Marpet has started every game hes played in for Tampa Bay.