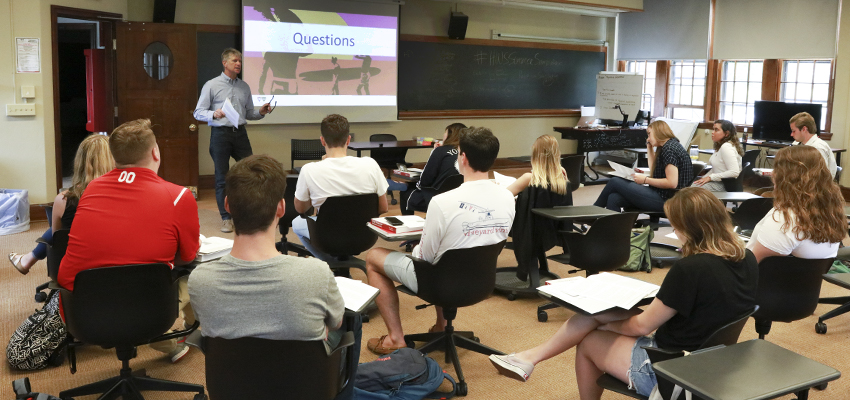 Summer Sandbox
Through the Centennial Center's inaugural HWS Summer Sandbox Idea Accelerator, a cohort of 12 students are refining their business ideas in hopes of launching new for-profit or non-profit ventures. Over the course of the nine-week program, students are learning the critical skills to transform initial concepts for products and services into reality.
"The Summer Sandbox is a program designed to serve as a practical and hands-on experience for student entrepreneurs and startup founders," says Visiting Assistant Professor of Entrepreneurial Studies and Margiloff Family Entrepreneurial Fellow Ed Bizari. "The program's goal, with the assistance of staff, mentors and subject matter experts, is to impart the fundamental skills for moving any for-profit or non-profit idea from an early concept to a sustainable business model."
Summer Sandbox provides a realistic startup experience by offering three core skills: learning sessions focused on foundational skills and developing an entrepreneurial mindset; a specific requirement of getting out of the classroom to interact with 80 potential customers; and ongoing coaching sessions with regional alums and entrepreneurs. Students are provided with the resources and space they need to develop, with a high degree of confidence, the elements needed to launch a successful company or organization.
This year's Sandbox participants include Janeya Blackwell-Orr '19, Rachel Carranza '19, Garrett Brzozowiec '19, Philip Davis '20, Harrison Demaira '19, Alexandria Knipper '21, Christina Lake '19, Boyhun Lee '20, Kelley Mantz '19 and Erik Soucy '19. Eliza Schwab and Trystan McLaughlin are participating students from Wells College.
Knipper, a media and society major, joined Summer Sandbox to develop an online support network that matches cancer patients with other like patients. "I want to make sure that no one suffering from this disease does it alone," she says. "The Sandbox is providing me with the necessary coaching to investigate an operating model for my idea and make it a reality."
All five Sandbox teams are addressing real-world problems. Carranza, Davis and McLaughlin are working on launching "Cell," a detection system for athletes to instantaneously detect concussion events; while Lake, Lee and Soucy develop "Credible," a mobile resource that provides people with severe-food allergies the dietary information needed to have a safe dining experience. Still other teams are working on projects in the evolving advertising and marketing industry, and the booming craft beverage space.
Throughout the summer, faculty and other experts have led discussions on team building, market definition and segmentation, business model generation and financials. Participants have also discussed successes and failures with a range of entrepreneurs. Guest presenters so far have included Samantha Buyskes, local head chef at H.J. Stead Eatery, Brad Treat, entrepreneurship faculty at Cornell University, Rhonda Morton, storytelling coach with Savannah Consulting, and Anthony Testa, Program Director at RIT's Simone Center for Innovation and Entrepreneurship.
Sandbox participants are also benefiting from coaching session with entrepreneurs and business professionals, including founder of 29 Design Studio Maureen Ballatori, Entrepreneur-in-Residence at Launch NY Brad Gouldthorpe, founder and head chef of Pizza Posto Sam Solomon '17 and Director of Board and Community Relations at Hobart and William Smith Chrissy Bennett West '94.
"I always find it so inspiring to work with people who are hungry in their quest to accomplish something," says Ballatori. "I've worked with a few sessions of students in HWS' Entrepreneurial Studies program and I LOVE seeing the fire and passion they have for problem-solving."
At the end of the program, students will have the opportunity to pitch their business or non-profit ideas to a small group of potential investors, community stakeholders and regional entrepreneurs.