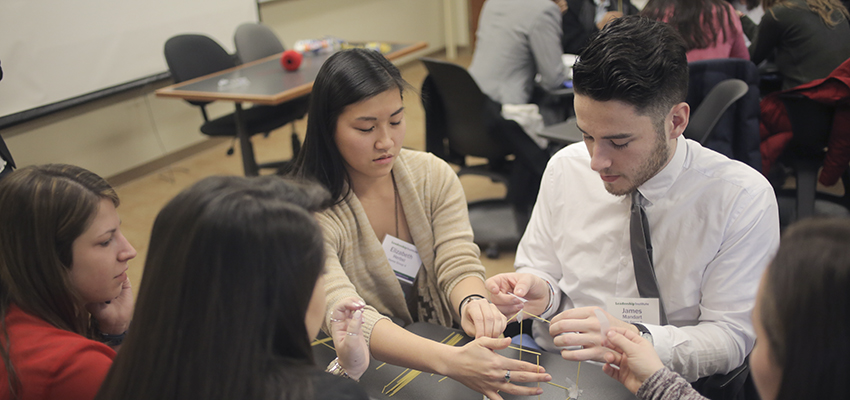 HWS News
30 September 2021 • Entrepreneurship Summer Sandbox Launches Early Stage Startups
This summer, students participated in an immersive 9-week startup accelerator.

In the entrepreneurial world, a "sandbox" is a space for nurturing ideas and creativity. The HWS Summer Sandbox provides hands-on and repeatable experiences for identifying and incubating potential business models for startups.
Held remotely this year, students joined the program from Geneva, Maine, Massachusetts, Pennsylvania, New York City, Washington D.C., Connecticut and Katmandu, Nepal. On July 28, students pitched their ideas for companies and nonprofit ventures to a Zoom audience of 100 people.
At the outset of the program, students broke into teams and "immediately adopted, what we call, lean startup methods," Entrepreneurial Fellow for the Centennial Center and Program Director of Summer Sandbox Ed Bizari says. They conducted approximately 100 customer discovery interviews with potential clients and customers, developed understanding of their customer segments and identified value propositions.
Over the course of nine weeks, they pivoted, derived and adjusted business and revenue models, and constructed financial projections. They also refined their pitches.
Teams received weekly coaching from more than 40 volunteers, including HWS alums, peers at regional programs from Rochester Institute of Technology, Cornell University, and the University of Rochester, subject matter experts and entrepreneurs. Through a collaboration with the RIT Summer Startup Accelerator, students also participated in a joint pitch networking session. "The volunteers' knowledge and insights are invaluable," Bizari says, "Every year, students rate the coaching session as a high value part of the Summer Sandbox."
In lieu of appreciation gifts for the volunteers, Summer Sandbox will donate in their names to the Founders Go Big Program, managed by regional venture development organization Launch NY. The effort enhances engagement of underrepresented and disadvantaged entrepreneurial founders, so all individuals can be empowered to transform the economy in our region of Upstate New York.
"The Summer Sandbox Program, the Centennial Center and HWS are proud to stand for diversity, equity and inclusion in entrepreneurship. Our donation is made possible by individual donations from the HWS community," Bizari says.
Summer Sandbox participants and their ideas include:
FibrWorks, founded by William Kline '23, Moritz Marchart '22 and Brendon Bennett '23, is a hemp-based replacement for materials like carbon fiber for manufactures of sporting goods such as ski and bike equipment.
CourthousePlays is a networking platform for student athletes developed by Samuel Saint Juste '21 and Gaslly Jacques '23. Their service will help student athletes focus on brand development, as they navigate the new NCAA policy allowing competitors to monetize their name, image and likeness, and focus on career opportunities after graduation.
Logan Schwappach '23, Carter Morgan '23 and Avi Rajkarnikar '23 have launched SeaBay, a person-to-person aquarist ecommerce platform. The online marketplace connects buyers and sellers of aquatic livestock, including coral and fish.
Niima Sellah '23 and Will Fuller '22 are the founders of Next Cake, a cake popsicle that delivers the perfect ratio of cake to frosting. The product is shippable, delicious and ready to eat on the go.
Faith Hicks '21 and Aroob Ahmad '22 presented Homeful, a nonprofit that aims to help foster, abandoned and runaway youth and homeless communities as they navigate city and state government resources, including long-term housing and employment options.
Dibz, founded by William Drake '23, Emma Nedeau '22 and Tyler Maddock '22, is a technology company that will change the future of parking. Through the membership service, customers will be able to view available parking spots in participating cities.
The photo above was taken from a previous Leadership Series event. This year's Summer Sandbox was held virtually.