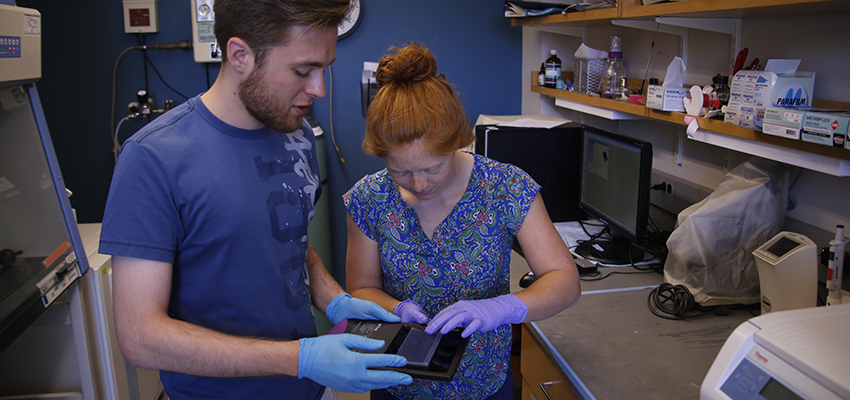 HWS News
6 January 2021 • Alums • STEM Stein '88 Establishes Summer Science Research Fund
Kevin Stein '88 has established an endowed fund to support on-campus summer science research opportunities like those he had as a student.
Fond memories of his experiences as a Hobart student, coupled with participation in a digital event held this fall about the Colleges summer science research programs, has inspired Kevin Stein '88 to create an endowed fund to support summer science research opportunities.
The Dr. Kevin M. Stein '88 and Family Endowed Summer Science Research Fund, established with a gift from Stein of $125,000, will allow students to spend part of their summer on campus working intensively with a faculty member. Students are supported in their research through on-campus housing and a weekly stipend.
"Because of some amazing people in my life and some incredible opportunities, I now find myself in a position to hopefully do for another what was done for me," says Stein. "It's about giving back, plain and simple."
Stein received his degree in chemistry with Honors before going on to earn a master's and a Ph.D. in inorganic chemistry from Stanford University. On campus, he was a Druid and a member of Phi Beta Kappa. Stein recalls working with Professor of Chemistry Romana Lashewycz-Rubycz as a student. "Under her instruction and mentorship, I was able to do some interesting summer research," he says, noting that he was able to conduct that research thanks to the Jensen Memorial Research Grant, a scholarship similar to the one that he is now funding.
Stein serves as President, CEO and Director of Transdigm Group, Inc., a member of the S&P 500 as a leading global producer, designer and supplier of highly engineered aerospace components, systems and subsystems for use on nearly all commercial and military aircraft in service today. He lives in the Cleveland, Ohio, area with his wife Kristen; they have two grown children.
Established in 1987, Hobart and William Smiths Undergraduate Summer Research Program has supported summer scholars who work side-by-side with a faculty research mentor. In doing so, students experience the rigors and joys of research in the sciences and social sciences, gain laboratory experience that will be vital to their future careers and benefit from the guidance of experienced faculty mentors.
Provost and Dean of Faculty Mary Coffey stresses the significance of the new fund. "We are tremendously grateful to Kevin Stein for this generous gift. Studies have shown that summer research opportunities are among the most effective high impact practices for students. It is not an exaggeration to call them transformative."
To be selected for the program, students must demonstrate a compelling interest in the field of study and the potential to be outstanding researchers.
In the photo above, students conduct summer genetics research in a biology lab.