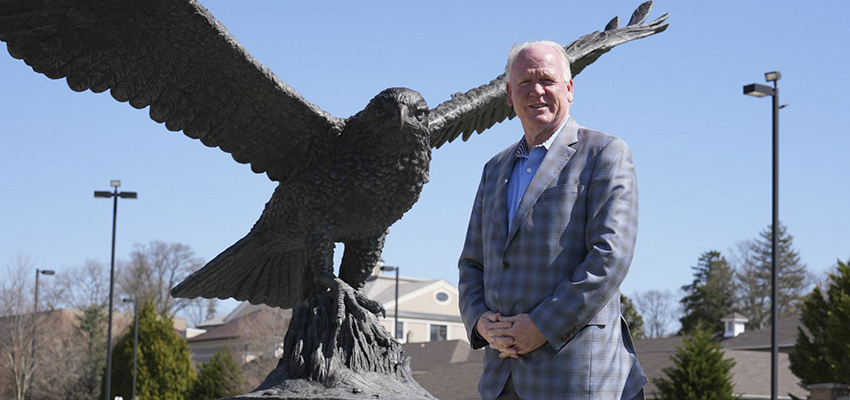 HWS News
4 May 2021 • Alums • Athletics Stapleton '83 named AD at Monmouth
Hobart basketball alumnus Jeff Stapleton '83 was recently named the next director of athletics at Monmouth University in West Long Branch, N.J.
Jeff Stapleton '83, current deputy director of athletics for the Hawks, has been named Director of Athletics at Monmouth University. He will begin his new role on July 1.
At Monmouth University for the past three decades, Stapleton has also served as the facilities director for athletics, a role that includes overseeing the development and construction of the Ocean First Bank Center, Kessler Stadium and a wide range of renovations to Monmouth's athletic facilities.
Stapleton graduated from Hobart with a bachelor's degree in sociology. He was a four-year member of the Statesmen basketball program, earning the 1982 Charles E. Love Trophy, presented to the Hobart basketball player whose scholarship, leadership and value to the squad have proved to be superior.
"I am delighted to name Jeff Stapleton to this important position," Monmouth President Dr. Patrick Leahy says in the school's press release announcing the promotion. "He has served this University tirelessly for 31 years and in those years has been instrumental in developing one of the top mid-major programs in the nation. However, what impresses me most about Jeff is his vision for the future of Monmouth Athletics, in particular his commitment to providing high-quality, equitable, and inclusive opportunities for our coaches and their student-athletes. The future of Monmouth Athletics is in very good hands."
Before joining the Hawks, Stapleton's collegiate athletics career began with four seasons as an assistant basketball coach at Hobart.