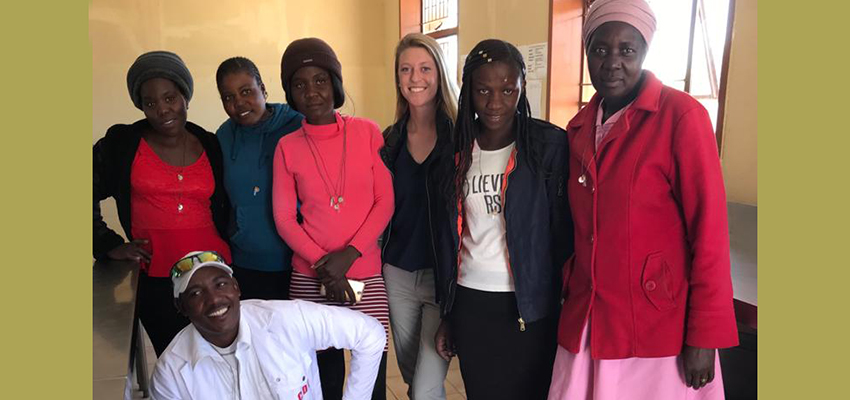 HWS News
18 March 2021 • Alums • Humanities Spraggs '17 Reflects on Peace Corps Service in Botswana
Since President John F. Kennedy established the Peace Corps in 1961, more than 240,000 Americans have served worldwide, including scores of HWS graduates. In celebration of the agency's 60th anniversary, Peace Corps volunteers from HWS, like Emily Spraggs '17, are sharing their life-changing experiences.
Building on the work of her independent major in global health and development, Emily Spraggs '17 joined the Peace Corps after graduation with a two-year assignment in Botswana, working primarily to support young people living with HIV and prevent the spread of the virus.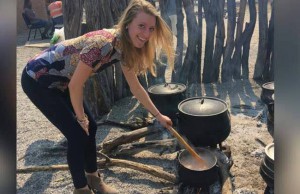 Spraggs was the first Peace Corps volunteer in the rural village where she was placed, and thus focused on establishing meaningful connections with the community. "One of my favorite projects was Grassroot Soccer, where another teacher and I coached all-girl teams. We used soccer drills to teach sexual reproductive health education. In an abstinence-based culture, this project was important as we used cultural sensitivity to deliver health education to young women," she explains.
Spraggs also collaborated with local women to develop a pre-school program and gender-based violence prevention projects. Whether negotiating with the village chief for approval to discuss sensitive issues like sexual violence, or with the village's development committee for a school building, toilets and supplies, Spraggs says that "the beauty of working in a small village was the opportunity to get to spend hours at a time talking and getting to know others."
As the two-year Peace Corps program approached its end, Spraggs opted to extend her service for another year and moved to the capital city of Gaborone to work at the Botswana-Baylor Children's Clinical Centre of Excellence. There, assigned to the UNICEF Adolescent Care Project, Spraggs coordinated six teen club sites and worked to develop Young Adult Support Groups at each.
But in early 2020, as her work with UNICEF was gaining traction and her language skills and network of relationships in Botswana were growing stronger, COVID-19 emerged and Spraggs was recalled from her posting. It was a disappointment, but the fulfillment she had found as a Peace Corps volunteer encouraged her to pursue a career in pediatrics.
"In the past year I have managed to finish prerequisite courses and gain patient care experience as I was a health screener at a local factory and patient care assistant at our local hospital," Spraggs says. "Although I thought life was perfect at the time, and it really was, this change has led me in another direction that is also really exciting."
Spraggs has since been accepted to a graduate school program at Vanderbilt University, where she will pursue her M.S.N. in pediatric nurse practitioner primary care this spring. Meanwhile, she has eagerly shared the impact of her experience in Botswana with the HWS community as a participant in a panel discussion this spring with other alums who recently returned from Peace Corps service.
In the photograph above, Spraggs (middle) gathers with community members.