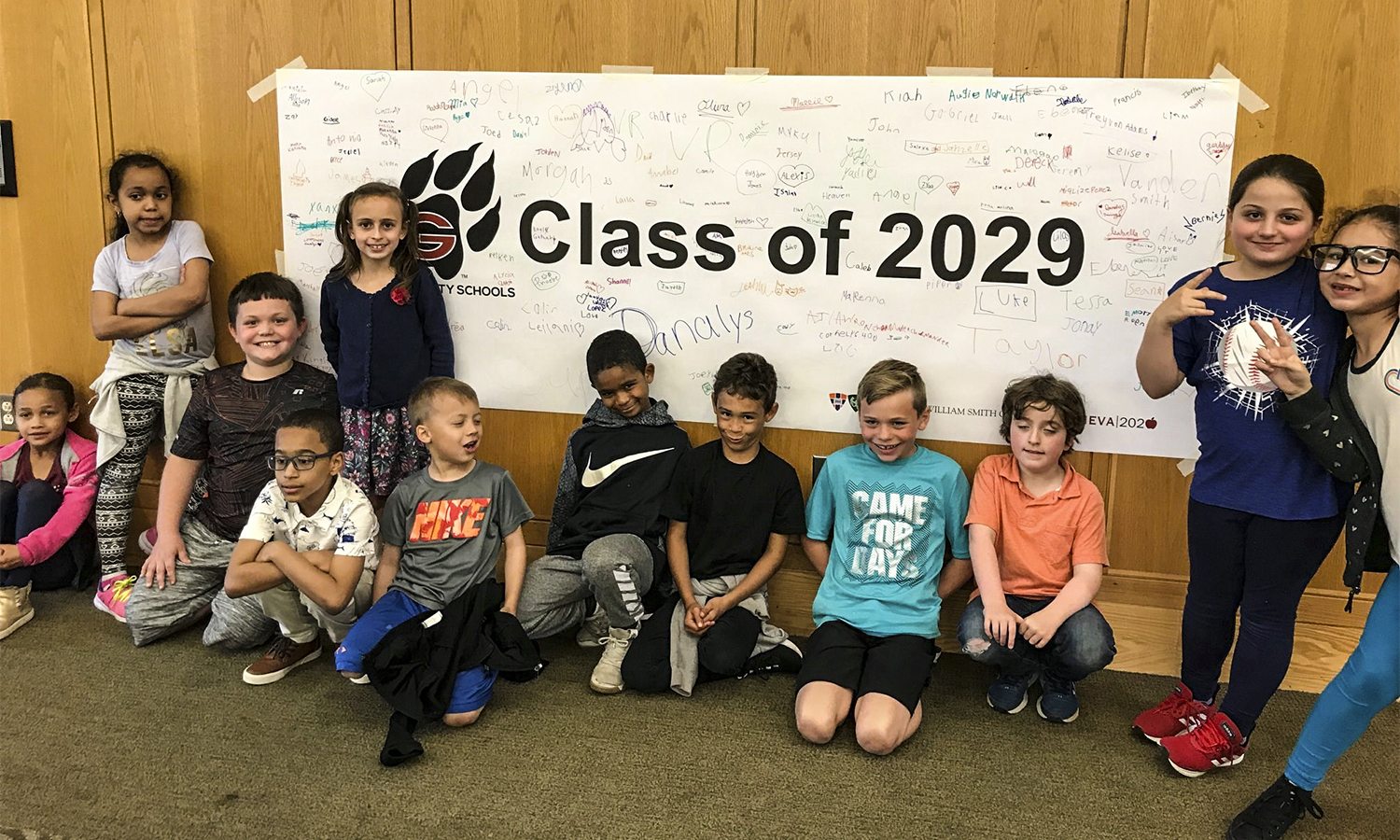 HWS News
7 June 2019

Second-Graders Visit HWS

Last week, more than 170 second-graders from North Street Elementary School toured Hobart and William Smith to experience a day in the life of a college student. The immersive campus visit on May 31, which included tours of campus, four activities and a personal empowerment course, was designed to incorporate literacy throughout the day, furthering Geneva City Schools and Geneva Public Library's initiative to bring academic enrichment to students during their summer vacation.

The event kicked off with a personal empowerment session led by HWS Assistant Vice President and Dean of Student Engagement and Conduct Brandon Barile, who led an activity in identifying and expressing feelings.

Students also were given a tour of the Warren Hunting Smith Library, where they learned about the importance of reading with Makayla Pydych '19, MAT '20. The second-graders then moved to Coxe Hall where Sustainability Manager Michael Amadori and Rylee Wernoch '21 organized an interactive activity about recycling and sustainability.

At Trinity Hall, students listened to a poem read by Assistant Director of Career Advising Shayne Feinberg. Afterward, they gathered in the Gearan Center for the Performing Arts where Bryna Gage '22 explained the various curricular and co-curricular opportunities in art, music, dance and theater at the Colleges.

Swellar Zhuo '19, who recently accepted an AmeriCorps VISTA position with Rochester Youth Year, enjoyed spending the morning with the second graders. "Their energy was contagious and it reminded me why we need to encourage students to explore their interests and work toward their dreams. Very fortunately, college is one of the many places that fosters that environment of curiosity and exploration."

The day concluded with children signing a banner with Class of 2029. Center for Community Engagement and Service Learning Assistant Director Amy Jackson Sellers, who organized the event, gave closing remarks, reading from the Storyline Online website, a tool she encouraged families to use. She also emphasized how important it is read anything and everything throughout your education, and especially once you get to college.