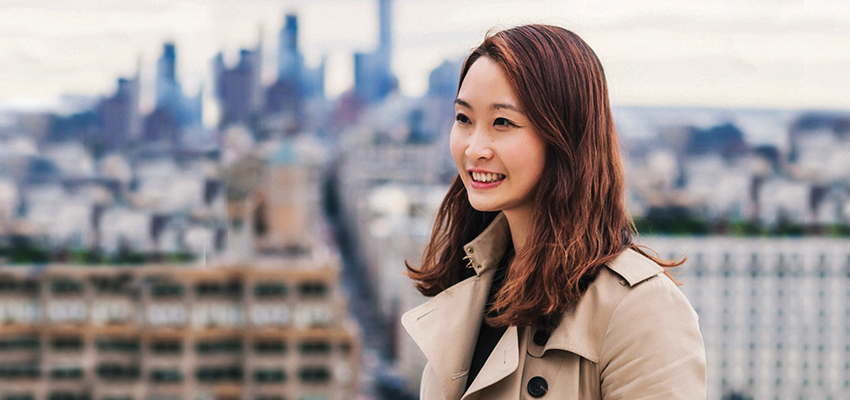 HWS News
30 June 2021 • Alums • Mentorship RUIWAN XU '11: Mentoring through the Unknown
"Your mentor only has one hour for you. What are you going to use it for?" Ruiwan Xu '11 likes to ask young professionals. Her advice? Touch base with them during life's big moments. And leave the conversation having added value.
Xu is the founder and CEO of CareerTu, an online school in digital marketing, data analysis and product design that has helped thousands of professionals land positions at technology firms including Amazon, Google, Tencent and Alibaba.
CareerTu's success has been explosive. In 2019, the company earned an exclusive spot with YCombinator, the incubator that has helped launch Airbnb, Dropbox and Instacart. With headquarters in both New York City and Chengdu, China, the startup already has nearly 200,000 users and 500 recruiting partners.
Along the way, Xu has become a game changer in the marketing and advertising industry. In 2020, Forbes named her to their list of 30 Under 30.
Xu says that in order to make the leap and launch her own company, she relied on guidance from her mentors, who gave her clarity when she reached a crossroads in her career.
While working as a product-marketing manager at Amazon where she oversaw growth marketing for Audible, Amazon offered Xu the chance to join their expansion team in Australia. But Xu had already had her own idea for a startup. She had a successful blog about leveraging online tutorials to launch a career in digital marketing. At the same time, LinkedIn estimates suggested that the U.S. had a shortage of more than 150,000 people with "data science skills." The market seemed wide open for online education and technical skills training.
Xu sought out her mentors, including vice presidents at Amazon and a startup founder who had previously sold their company to Google, to help her weigh her options. She says they were able to share guidance based on personal experience. "Amazon jobs will always be there," Xu summarizes. "Your dreams won't be."
Now as a CEO and first-time founder, Xu has developed her own mentorship philosophy.
"The world is constantly changing. I have to lead my team to embrace changes. This year, it's about being open-minded," Xu says. "The future is unknown, but we have learned a few things about solving problems. The challenges will always be there. Our whole culture for that reason is about embracing the changes. Keep conquering."
At the heart of CareerTu is Xu's belief in the accessibility of knowledge. In China, she explains, there aren't many pathways for professionals who want to continue their education. By creating a skill share platform, Xu hopes that professionals will be able to pivot more easily and follow their potential.
Xu graduated from Hobart and William Smith with her B.A. in art and architecture. After receiving her master's from Simon Business School at the University of Rochester and joining Audible, Xu found a common language between architecture and product design. "People may think there is no connection between these two worlds, but it is not true. In both fields, you're constantly talking about the user experience or user behavior. My architecture background gave me a strong foundation for understanding this way of thinking," she says.
Classes with Professor of Art and Architecture Stanley Matthews allowed Xu to develop a creative approach to user thinking and problem solving. When she launched her startup, she also found herself thinking back to instruction with Assistant Professor of Economics Warren Hamilton and Professor Emeritus of Mathematics and Computer Science Kevin Mitchell, who taught her the foundations of microeconomics, accounting and making data-driven business decisions.
"I am so grateful to the HWS network, who generously offered opportunities and their time," Xu says. Last year, she hired Kerui "Cary" Chen '12 to become CareerTu's Vice President of Product.
"Maybe your mentor has tried a couple of things in their career. By generously sharing that information, they can help you identify an opportunity," Xu says. On the flip side, she emphasizes: "If someone generously shares their time with you, you need to be able to add value."
"I am sure there will be students reading this article who say, 'How am I going to add value to a CEO's time?' I think there is always something we can try and something we can do. Share your view, your thinking. Your generational perspective."
This article was part of a special feature in the latest issue of the Pulteney Street Survey, which profiled seven HWS graduates who reflected on the role of mentorship, formal and informal, in facing the unknown — and achieving success.