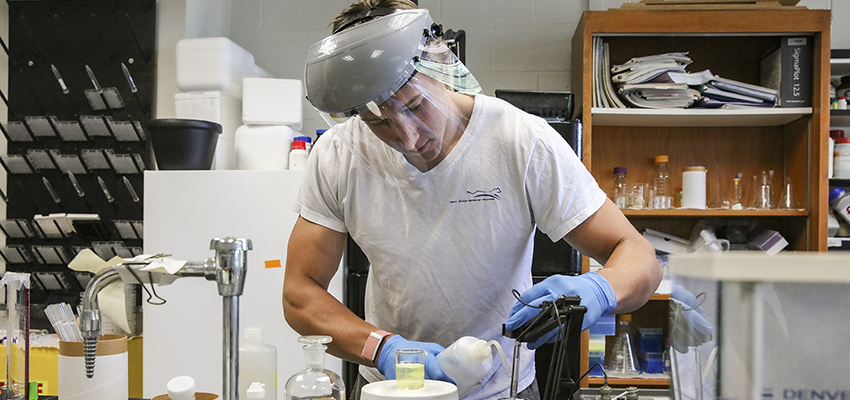 HWS News
9 April 2021 • STEM Robitaille '21 Pursues Med School with Air Force Support
Through the U.S. Air Force's Commissioned Officer Training program, Alec Robitaille '21 has earned a scholarship that will support his medical school and master's in public health education at Midwestern University.
This fall, Alec Robitaille '21 will begin medical school at Midwestern University, where he will also pursue a master's degree in public health. His graduate education will be funded in full through a scholarship from the U.S. Air Force's Commissioned Officer Training program, a five-and-a-half-week program designed to ease the transition from the private sector into military life.
"The wealth of opportunity and academic rigor here at HWS have been crucial in preparing me for this next step. I am extremely grateful to my coaches, professors, friends and family for helping me along the way," he says.
At HWS, Robitaille's research journey began the summer he undertook a project supported through the Guaranteed Internship Program. Based at the University of Montreal, he spent six weeks in the lab studying toxicology, an experience that sparked his interest in research and inspired him to pursue a major in biochemistry.
Back on campus, it was a lecture on hemoglobin that propelled Robitaille's subsequent research, culminating in his Honors project focused on the biochemical mechanisms behind the metabolic process. He is currently completing his Honors thesis under the guidance of his research adviser, Associate Professor of Chemistry Kristin Slade.
Fueling his passion for lab work and for science as a whole, Robitaille's research has not only shaped his academic career at HWS but provided a springboard for medical and graduate school after graduation.
Outside the lab, he is a member of the Druid honors society and a teaching fellow for the Colleges' biochemistry and Spanish programs.
A captain on Hobart's hockey team, Robitaille played in 63 career games, compiling 28 points on 13 goals and 15 assists. He recorded a career-high 20 points in his junior season, scoring 12 goals and earning with the D. Michael Hazelton '85 Memorial Award as the team's most improved player. Robitaille's first collegiate goal was perhaps the biggest goal of his career: in the 2018-19 season, he scored the game-winning goal in Hobart's 2-1 win in the first round of the NCAA Tournament. An American Hockey Coaches Association All-American Scholar and a two-time New England Hockey Conference All-Academic selection, he also serves the team's athletic study mentor.
In the photo above, Alec Robitaille '21 works on creating more cell-like conditions for enzymes than just a buffer. He is in the lab of Associate Professor of Chemistry Kristin Slade.