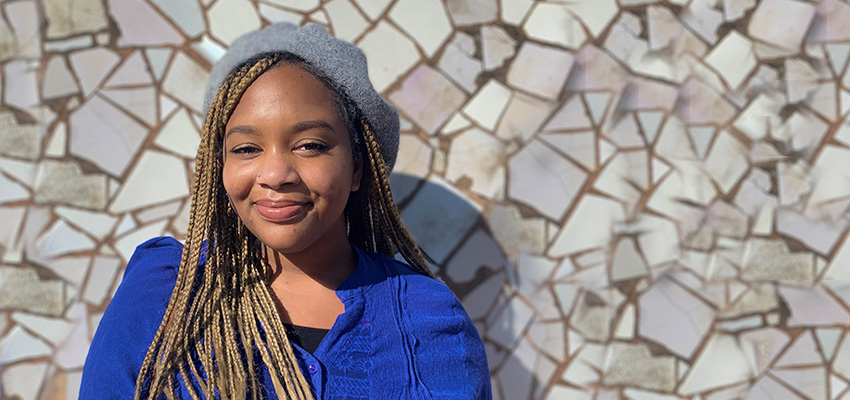 HWS News
29 December 2021

Riggins '22 Lands Coveted Position with ViacomCBS

Through seven internships and an independent study project, Shayna Riggins '22 has explored the fields of advertising and media.

Since attending an advertising camp in high school, Shayna Riggins '22 says she has been drawn to the field that holds the power to influence beliefs, opinions and behavior—and makes the world a more equitable place.

At Hobart and William Smith, she has thrived as a media and society major and studied abroad in Spain. Throughout her time on campus, she has supplemented her academic work by landing seven internships.

In her first year, the Salisbury Center for Career, Professional and Experiential Education helped her polish her resume and find a marketing internship on campus. The following year, she secured two remote internships during the early days of the pandemic – one at Paine Lake Global, based in Los Angeles, and the other at The DreamCatchers Foundation in Scottsdale, Arizona.

Her drive to explore career opportunities didn't wane. In the fall of her junior year, she remotely attended Viacom's Campus to Career two-month multicultural media summit to learn more about the industry and to prepare to apply for a competitive ViacomCBS summer internship in New York City. Riggins then spent the rest of her junior year doing two remote social media internships, one at Clutch SOS, a computer software company based in Minneapolis, and the other at Creative Talents Worldwide, an international content marketing company based in Aix-en-Province, France.

Last summer her work paid off when she landed the sought-after summer internship at ViacomCBS, Velocity as a cultural intelligence and creative strategy intern. Most recently, she extended that internship through the fall and gained more valuable experience, taking on a seat as a partnership and marketing intern at Digital Venture Partners, a company co-founded by HWS alum Ryan Rapaport '07.

She says her coursework prepared her well for each placement. An independent study under the direction of Professor of Media and Society Leah Shafer was completed while working at Digital Venture Partners. During her independent study she developed a podcast "Investing in Internships."

"The media and society classes have exposed me to new media terminology and ideologies as well as helped me to think critically about different media topics and content," she says. "Because I am surrounded by others who are interested in media including my professors who are well-acquainted with and successful scholars of media, I learn and am challenged to apply what I learn to my developing career."

In the spring, Riggins will continue her internship with Digital Venture Partners. On campus, she is a member of the Laurel Honor Society and Sankofa. She served as media coordinator with the Caribbean Student Association and was an ambassador with the Center for Global Education. Riggins also attended the Behind the Scenes experiences in NYC and Los Angeles coordinated by the Salisbury Center.

Riggins says she received the internships with support from T. Howard Foundation, MADE program and Salisbury Center.