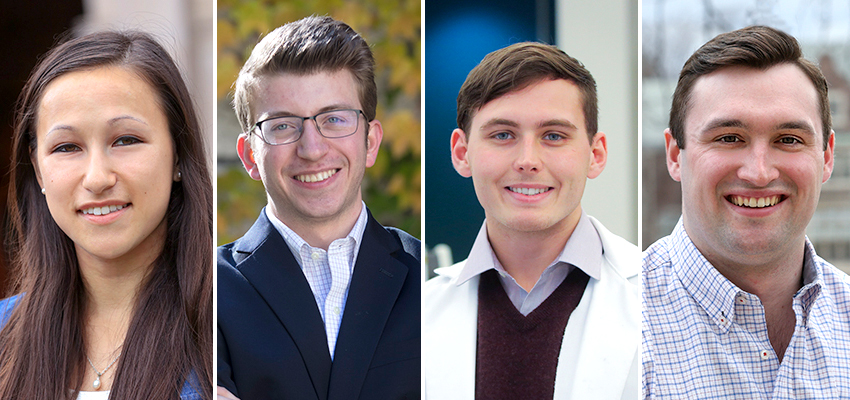 HWS News
17 October 2017 • Research Recent Grads Begin Medical, Dental School
With a robust scientific foundation and career guidance through the Health Professions program, recent Hobart and William Smith alums are beginning the next phases of their educations at Columbia, Brown, Penn State and other universities with top programs in medicine and dentistry.
A recipient of the 2015-16 Fulbright U.S. Student Award, Christopher Troy '15 entered the medical program this fall at Columbia's College of Physicians and Surgeons, the next step toward a career in global medicine. The four-year program will allow Troy, who double-majored in chemistry and Spanish, to define his interests within the field.
"I want to have some aspect of my career based internationally, whether that means involvement in humanitarian projects or pursuing a career in infectious diseases or public health," says Troy, who was a Teaching Fellow in the Chemistry Department and the recipient of both the Cornelius A. Wood Scholarship for most academically outstanding Hobart student, and the Eaton-Cross Prize for Excellence in Biology and Chemistry.
James Cooper '17, who enrolled this fall in the Jacobs School of Medicine and Biomedical Sciences at the University at Buffalo, says he became determined to attend medical school after my grandfather was diagnosed with a type of leukemia called chronic lymphocytic leukemia.
A biochemistry major and philosophy minor at HWS, Cooper completed an Honors project in the field of immunology and is now pursuing a dual emphasis in medicine and immunology through the joint M.D.-Ph.D. program at Buffalo. There, he will conduct research at the medical schools affiliate hospital, Roswell Park Cancer Institute, where his grandfather was treated.
Melanie Patterson '17, who majored in biochemistry and minored in health professions, worked with Professor of Chemistry and Health Professions Chair Justin Miller and Health Professions Counselor Scott MacPhail to hone her skills, define her interests and prepare to apply to medical school.
Now at Penn State College of Medicine, Patterson says "the courses I took as a bio-chem major left me really well-prepared. HWS has enabled me to make so many connections to my current coursework, and I'm excited to keep making those connections in the future."
For Christopher Demas '17, who recently began the medical program at Brown University, his time at the Colleges provided many avenues for me to be best prepared for medical school through leadership, research development and community engagement, he says, noting his work as a Teaching Fellow in the physics and biochemistry departments, with the RockSat-C aerospace research program, and volunteering in the Geneva community by playing his violin at elder care facilities.
A member of Phi Beta Kappa, Demas double-majored in physics and biochemistry and minored in health professions. He completed a physics Honors projects on algal blooms in the Finger Lakes Region that utilized an innovative approach to remotely monitor algae concentration through the use of reflective spectroscopy via drones.
Meanwhile, Troy Neureuter '15 is studying dentistry at Touro College of Dental Medicine near New York City, and several other recent graduates began programs at SUNY Updates Medical Center, where they gained early acceptance as undergraduates.
Katie Pinkes '17, who was admitted to SUNY Upstate through the Early Assurance Program for College Sophomores, studied neuroscience at HWS. She was inducted to Phi Beta Kappa and to Psi Chi, the international honor society in psychology, and was a member of the William Smith cross-country team.
An Elizabeth Blackwell Class of 1849 Pioneer in Science Scholar, Stefani Schmitz '17 was accepted early to SUNY Update as part of the B.S./M.D. partnership program with HWS, as was Namita Neerukonda '17, who was inducted to Phi Beta Kappa as a junior.