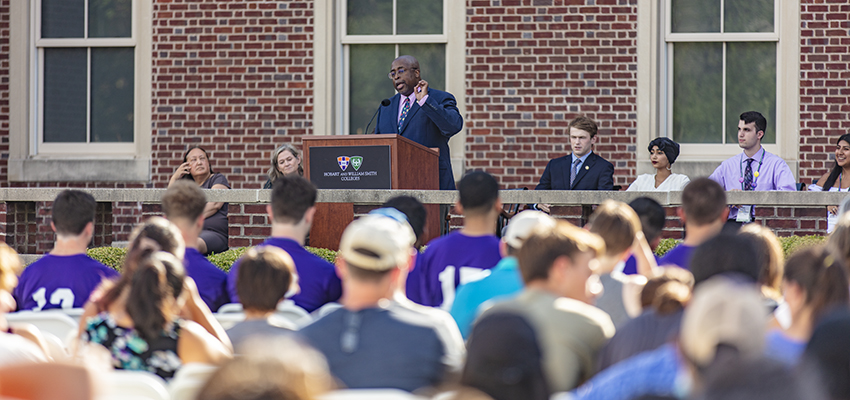 HWS News
12 October 2021

President's Welcome Offers Wisdom to Classes of 2025

An Orientation tradition, new students and families gather on Stern Hall Lawn for a warm welcome by HWS faculty, staff, alums and students.

The President's Welcome is both a hello to new members of the HWS community – the Classes of 2025 and their families – and a goodbye, as students say goodbye to their parents and families, and begin their undergraduate college experience. During the ceremony, HWS faculty, staff, alums and students shared advice and laughter.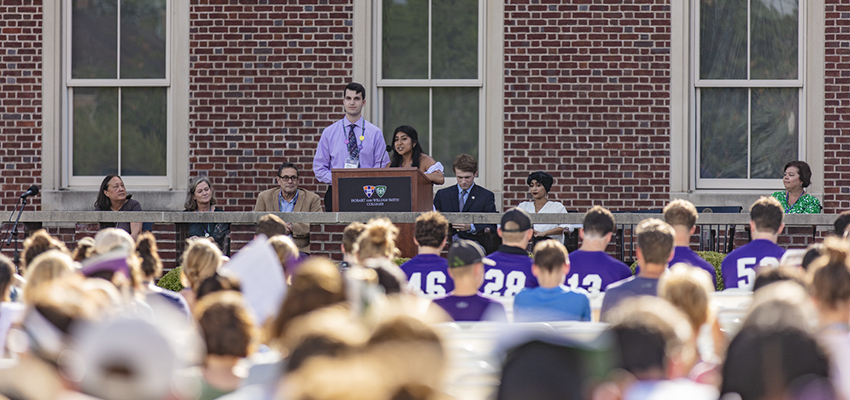 President Joyce P. Jacobsen and Provost and Dean of Faculty Sarah Kirk officially opened the ceremony, welcoming the Classes of 2025 to the Colleges' intellectual community, promising opportunities for research, discovery and fun during their four years at the Colleges.
Orientation Coordinators Litzy Bautista '23 and Ethan Lewis '23 encouraged students to explore new disciplines of study, clubs, places and to ultimately find their passion. "HWS is a place that allows students to explore a range of opportunities," the pair said. At the Colleges, "students find what it is that they're truly passionate about."
The Student Trustees also offered remarks. Thomas "Gib" Shea '22 gave local insight, sharing that Geneva, N.Y. is the "trout capital of the world." He analogized catching a big fish to the HWS experience, calling on students to "cast your line as far and wide as you can go."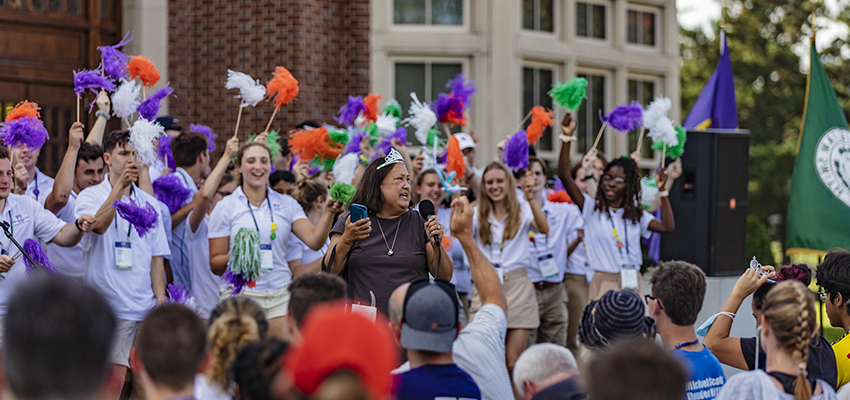 To an incoming class that has lived through the challenges of COVID-19, "which highlighted all of the inequalities and injustices in our world," Nuzhat Wahid '22 shared how HWS can help them make a difference. "…keep pursuing what allows you the most joy, for that joy will inevitably lead to passion, and it is only with that passion that you can identify how you can help a world on fire," she said to the crowd.
HWS Trustee and Senior Manager of Enterprise Design for The Walt Disney Company Michael Rawlins '80, P'16 spoke as an alum and as a legacy member of the HWS community. His four siblings, a cousin and son all graduated from the Colleges. To the assembled families, he said, "You are entrusting your sons and daughters to us. We take that responsibility very seriously and have worked hard to create an environment that fosters intellectual and social growth that will prepare your children to engage with and thrive in this rapidly changing world."
Provost Kirk, who joined the Colleges this summer, told the first-year students that they shared many things in common including "the wonderful opportunity to explore all that the Colleges and the region have to offer us."
President Jacobsen ended the event with a spirited and humorous karaoke version of the popular song "Let it Go" from the movie Frozen, encouraging parents to "Let them go, let them go; Turn away; Slam the minivan door…." Her version was met with a great deal of laughter from parents and family members as she was joined by dozens of cheering Orientation Coordinators.
In the photo above, Michael Rawlins '80, P'16 offers remarks.