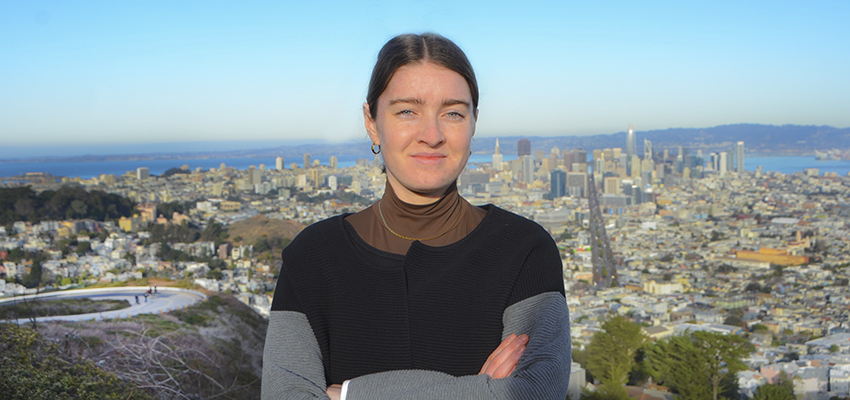 HWS News
1 September 2021

Platt '21 Starts Career at Maier Anderson

Audrey Platt '21 has landed a position at Maier Anderson, a fundraising firm that works with justice-focused nonprofits and political candidates.

Graduating with a B.A. in political science and Latin American studies, Audrey Platt '21 is excited to start her career working as a fundraising associate for Maier Anderson.

"I am a people person: connecting with folks, crowdsourcing our understandings, and honing how we tell stories is what I am here for," says Platt, who supports the company's focus to teach and share successful political fundraising techniques. "Our team works with a myriad of clients dedicated to expanding the capacity for folks to sustainably fundraise for themselves."

She says the position also allows her to pursue her passion in politics and supports her personal values. "I am elated to dive into fundraising with an incredible team and inspiringly wholesome call to action. I believe fundraising is at the epicenter of politics and nonprofits alike and that it disproportionately disadvantages historically marginalized communities," she says.

At Hobart and William Smith, Platt says she had several experiences that prepared her for this first job such as serving as a Student Trustee and co-president of HWS Votes, working on local election campaigns and volunteering with social justice and political groups in Geneva. She also believes the course Campaigns & Elections with Visiting Assistant Professor of Political Science Ricky Price was critical to her success.

"I joked with Professor Price the other day that my work now is similar to that of Campaigns & Elections but on steroids," she says, noting course literature such as How to Win an Election by Marcus Cicero.

Platt's also thankful for the valuable support she received from William Smith Dean Lisa Kaenzig and Director of the Center for Community Engagement and Service-Learning Katie Flowers.

At the Colleges, Platt was also a Resident Assistant, an O'Laughlin Ambassador with the Admissions Office and music director for WHWS 105.7 FM.