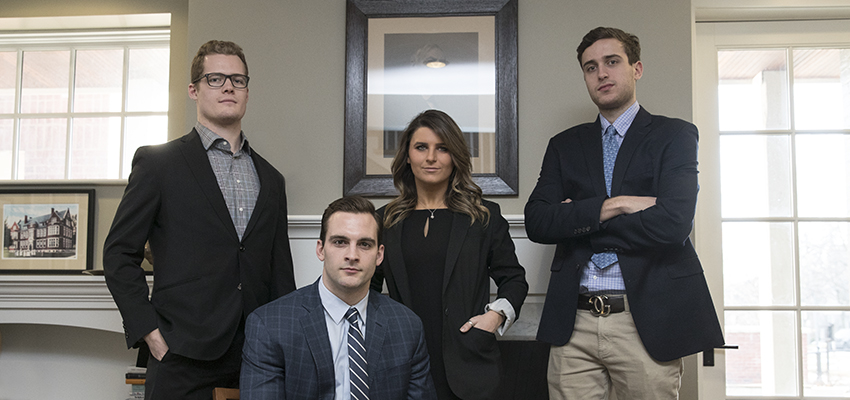 Pitch 2018 Finalists
1 March 2018 • Humanities Pitch 2018 Finalists
Looking to transform their ideas for startups and non-profits into reality, four contestants have moved to the final round of the 2018 Stu Lieblein '90 Pitch Contest. The finalists, who were selected from a competitive applicant pool, will face off at the entrepreneurial competition on Thursday, March 1 at 7 p.m. in the Vandervort Room of the Scandling Campus Center. The event can be streamed live here.
This year's finalists include Harrison DeMaira '19, Benjamin Greiner '18, Maura Moran '18 and Andrew Silard '18. Since entering the competition in the fall, the students have worked alongside alum mentors and the Centennial Center to turn their business plans into viable and engaging proposals. At the Pitch, students will present their ideas in front of a panel of four judges made up of HWS alums and parents, in pursuit of a $10,000 grant to fund their proposal.
"These Pitch finalists really proved themselves by having a solid proposal as well as an impressive presentation to the committee," says Associate Dean and Director of the Centennial Center Susan Pliner. "Once again, it is a diverse grouping of ideas with each of them having their own unique potential to go to market. I can't say enough about the caliber of students that The Pitch contest continues to attract. These finalists are passionate and hard-working, and have really put in the time and effort needed to earn a chance at the $10,000."
The finalists and their startup ideas include:
Harrison DeMaira '19 – Icon Influencer Marketing, a platform that connects social media content creators (YouTubers, Bloggers, Vloggers) with brand owners who want to run advertisement campaigns on social media.
DeMaira, who is pursuing a minor in entrepreneurial studies, has experience working with brands to promote their products. On YouTube and Instagram, DeMaira has 30,000 followers and is often contacted by companies looking to advertise on social media. "I've always been passionate about the future potential of social media," DeMaira says. "I want to start Icon Influencer Marketing in order to sponsor people for their creativity and to encourage people to continue making creative content on the internet."
He has worked closely with Michael Duggan '92, CEO at Phillips Distilling, who has provided insight on how to stay open to new revenue streams and make a new wave of social media accessible to older generations.
Benjamin Greiner '18 – TalkAboutDepression.org, a non-profit organization that provides information on how to communicate with individuals with depression and works to eliminate the stigma surrounding mental health.
Greiner, a member of the Hobart hockey team, is gearing up to compete in the Pitch competition on the same week as the DIII playoffs games. He says firsthand experience has driven him to create a resource for families and friends of people struggling with depression. "Even though depression tends to be a silent topic, speaking and giving people the right information on how to communicate with someone dealing with a mental health challenge can be very valuable to the public."
Greiner has had meaningful conversations about how to enter the national discussion on depression with his alum mentor Dr. Katherine Platoni '74, Col. (Ret.), national expert in Post-Traumatic Stress Disorder and a Colonel in the U.S. Army for more than 36 years.
Maura Moran '18 – Frontier Financial, a budgeting tool for young professionals who are building a foundation for financial independence.
Moran, a member of the William Smith field hockey team, says balancing academics and athletics has been a challenge that has pushed her to pursue the things she is truly passionate about. "When you have less time, you value it so much more, you push yourself to prioritize what needs to be done, and then you put your head to the grindstone," she says. Having watched friends graduate from colleges across the country and become overwhelmed by their finances, Moran believes Frontier Financial has the potential to make a significant impact.
Moran's proposal developed through discussions with Edgeworth Economics Founder and Senior Vice President Matthew Milner '99 and COO Patrick Byrne '02 who have extensive experience in the economic and financial consulting industry.
Andrew Silard '18 – Revolve, a social media crowdfunding platform for non-profit organizations that allows organizations to post photos, videos, statuses and biographies to build their donor base, track performance and use the data to improve efficiency and transparency.
Silard, also a member of the Hobart hockey team, first began working on Revolve when he attended the Global Clinton Initiative in Washington, D.C. last year. Since then, he has been motivated to pursue the idea because he believes it has the potential to transform the nonprofit world. "The Centennial Center has helped me refine my proposal and provided me with revisions, feedback and suggestions to develop my idea into a fundable project," says Silard. "I am motivated to compete in the Pitch because I believe in this idea."
Silard's proposal has grown to better serve non-profits through conversations with his mentor Nan Doyal P'18, president of the International Forum.
Since the competition's inception in 2011, students who have competed in the Pitch have gone on to fund successful businesses that have had an international impact. Past winners include Sara Wroblewski '13 for One Bead, a non-profit that empowers children through leadership programming and partners with glassmakers in Kenya; Ato Bentsi-Enchill '17 for RevisionPrep, an online educational service for students in Ghana; Andrew King '14 for SpaceVinyl, a company bridging the gap between design and printing; and most recently, Sam Solomon '17 for Pizza Posto, a locally sourced pizza food truck that complements the thriving food and drink industry of the Finger Lakes.
The Pitch has been generously funded by entrepreneur Stu Lieblein '90 since 2013 to provide students with the opportunity to receive direct feedback and mentorship on their best ideas. He will continue to support the contest for one more year.