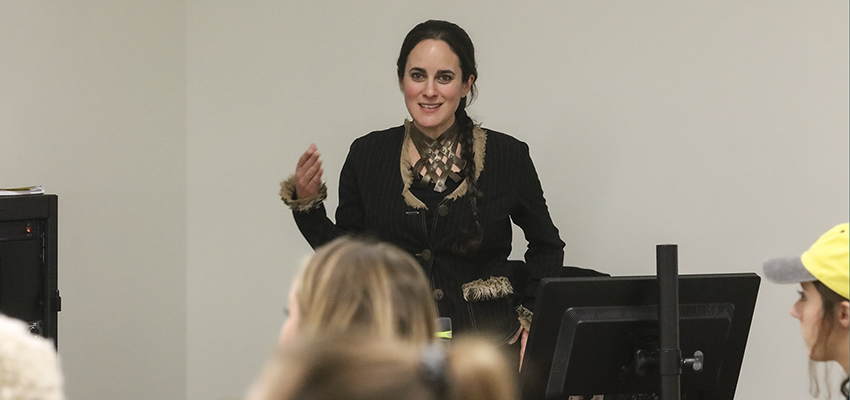 Patti Explores Global Cinema as Kinghorn Fellow
1 October 2020

Patti Explores Global Cinema as Kinghorn Fellow

For her analytical scholarship on the economic, political and aesthetic implications of global cinema, Associate Professor of Media and Society Lisa Patti has been selected as this years recipient of the John R. and Florence B. Kinghorn Global Fellowship.

Established in 1970 and generously endowed by Dr. and Mrs. William Reckmeyer in honor of John Readie and Florence B. Kinghorn, the fellowship honors outstanding faculty at HWS who have exemplified global citizenship on a continued basis. This excellence can be demonstrated through research and writing, mentoring independent studies or Honors projects, leading international study programs with an emphasis on citizenship, working with third-party organizations and/or encouraging global enrichment programs on campus.

An expert in cinema studies with a particular focus on the contemporary translation and distribution of global media, Patti will receive a stipend of $3,000 to be used in the spirit and nature of the award.

The Kinghorn Global Fellowship is a well-deserved recognition for Professor Patti, whose work is asking vital questions about cultural diversity and the evolution of filmmaking internationally, says Provost and Dean of Faculty Mary L. Coffey. I am especially grateful to Dr. and Mrs. Reckmeyer for their important support of our faculty in this way. Not only does the fellowship provide selected faculty with enhanced resources, it also ensures that their work is shared across the community, adding important value to our educational efforts.

During her appointment period, Patti will deliver the Kinghorn Global Fellow Lecture. Determined by the Kinghorn Global Fellow, the lecture topic must be connected to global citizenship and reflective of the work done to qualify for the award.

I am grateful to the Colleges and to Dr. and Mrs. Reckmeyer for supporting my research as it expands from global cinema to the technological innovations that make global media distribution possible, and I am looking forward to sharing what I have learned with the HWS community, Patti says. I am also grateful to my Media and Society colleagues for encouraging the collaboration and interdisciplinary experimentation that global research requires and to our students for welcoming the challenge of studying films from many different global regions and in many different languages.

In her letter nominating Patti for the fellowship, Associate Professor of Media and Society Leah Shafer writes that Pattis work performs a crucial intervention into the field at a moment in history when thinking globally has become even more pressingDr. Pattis investment in work that resists canonical cinema studies work and insists upon thinking through the ways that the field has ignored non-Western voices is admirable and righteous.

Regarding her teaching, Shafer notes: The intellectual and ethical stakes of Dr. Pattis engagement with teaching about global issues aligns with the hands-on ethos of the Media and Society program. [She plays] important role in guiding our pedagogical orientation as a program[and] approaches teaching with intellectual rigor and research; she is generously willing to share her work with an international roster of colleagues; and, her scholarly work has a real-world impact.

Read more about the Kinghorn Fellowship and previous fellows.

Patti is the author of Writing About Screen Media, which offers a comprehensive overview of how to write about many different screen media in a range of writing formats. She is also the co-author of Film Studies: A Global Introduction(with Glyn Davis, Kay Dickinson and Amy Villarejo) and co-editor ofThe Multilingual Screen: New Reflections on Cinema and Linguistic Difference(with Tijana Mamula). Patti, who joined the HWS faculty in 2011, earned her B.A., M.A. and Ph.D. from Cornell University.