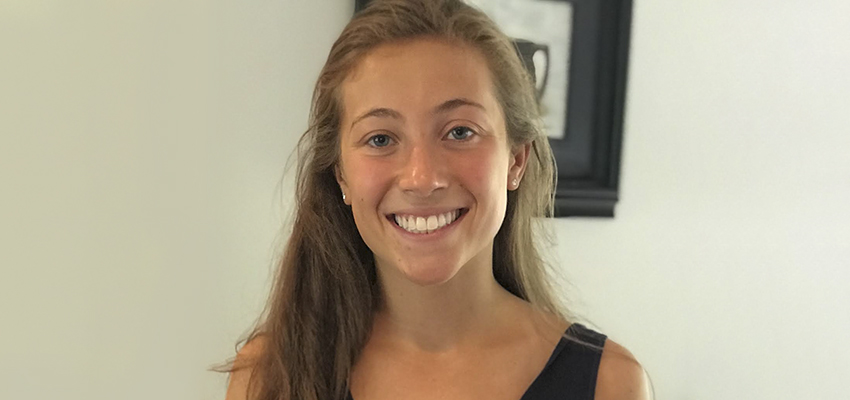 HWS News
12 January 2022

Parrett '23 Lands Internship at Citigroup

Gillian Parrett '23 has accepted a summer internship at Citigroup.

Economics major and Heron cross country team member Gillian Parrett '23 has secured a 10-week internship at Citigroup, a multinational investment bank and financial services company based in New York City. During her Citigroup internship, she will assist in offering customized private banking to clients to help protect and grow their wealth.

Parrett says she was determined to work for "the top leader in the world of financial services" because of the company's commitment to its clients. "To have the opportunity to intern for a firm that prioritizes the client's best interest was crucial for me. I want to learn more about the client and their journey to where they are today," she says.

In addition to her studies, Parrett says her experiences and resources outside of the classroom have prepared her well. As co-president of the HWS Investment Club and a member of the Investment Committee, Parrett says she has become more knowledgeable of the financial world.

For example, through the Investment Club she became versed in simulations on Stock-Trak, a real-time investing platform where "fake money" is invested into real investments. As a member of the William Smith cross country team for the past three years, she says she gained the skills needed to work on a team.

Parrett adds that she is very thankful for the support and guidance she received from Mehrnaz "Naz" Vahid-Ahdieh '85, P'17, who serves as Managing Director and Global Head of Citi Global Wealth at Work and Gavin Gross '19, an analyst in Direct Private Investments at Citi. She's also grateful to the Salisbury Center for Career, Professional and Experiential Education, which connected her to the alums.

She hopes to be "a crucial component to the success" of her internship team.

"I am overall very excited to learn and get real experience at a Citi Private Bank," says Parrett. "This is an unbelievable opportunity, and I am so excited to have a firsthand experience in this field."

In the future, she hopes that this summer's experience will help her find a full-time position in the financial industry, and she expects to continue running and eventually to qualify for the New York City Marathon.