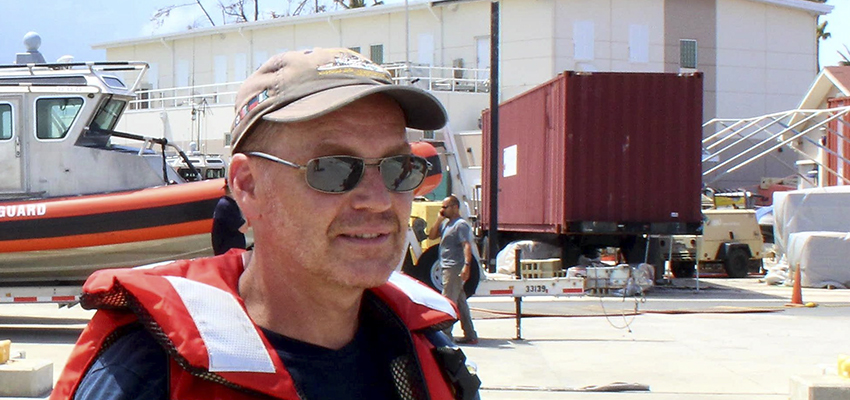 HWS News
22 October 2019 • Alums Navigating Rocky Waters
Douglas Wood '05, a physical scientist at the National Oceanic and Atmospheric Administration (NOAA), recently returned from a 20-day hydrographic surveying excursion in the Caribbean an essential mission in helping islands restore everyday life after the devastation of Hurricane Maria. Wood and his team aboard the Thomas Jefferson were charged with surveying debris and the safety conditions of ports in the U.S. Virgin Islands and Puerto Rico.
"There are very few lights ashore of Puerto Rico right now, so its really important that we can get these ports open and get them the relief that they need," said Wood, during the journey.
Wood and a team of 38 officers, crew and scientists arrived in Puerto Rico after a four-day journey from Jacksonville, Fla., marked by rough waters as Maria approached the ship during its path north. Under the Department of Commerce, NOAA provides vital analysis of ports, navigational charts and hydrographic data that is used to determine if a harbor is clear of debris before opening to vessel traffic. During this voyage, Wood and his crew logged sailboats, power boats, shipping containers and other large obstacles blocking piers and ports.
"Our primary mission is to provide industries with whatever information they can use to keep the economic wheels running," explained Wood, who studied geoscience at HWS before earning his masters in earth science from Syracuse University. "Opening these ports for safe commerce is critical to these places if they are to recover."
After returning from the Caribbean excursion, Wood and his team surveyed ports on the coast of Georgia. Usually based at NOAAs headquarters in Silver Spring, Md., Wood manages the survey schedule of the NOAA fleet and monitors data quality.
"I really like when we create these digital terrain models of the ocean," said Wood. "I'm a geologist and when you start seeing the seabed features reefs and the patterns made by sand waves, you can see how the sand waves and dunes have moved. When you come across an uncharted wreck, that's really exciting."