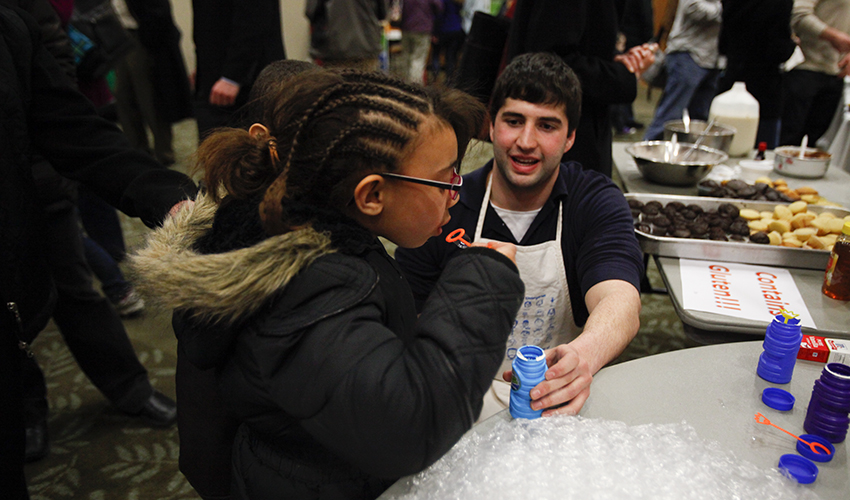 HWS News
31 March 2017 • STEM Miller and Students to Dispel Food Myths
You are what you eat, but because of cryptic marketing and labeling on food products, what you're eating isn't always clear. That's why students from Associate Professor of Chemistry Justin Miller's Bonding with Food course distinguished fact from truth during a public information campaign on Thursday, March 30 in the Sanford Room.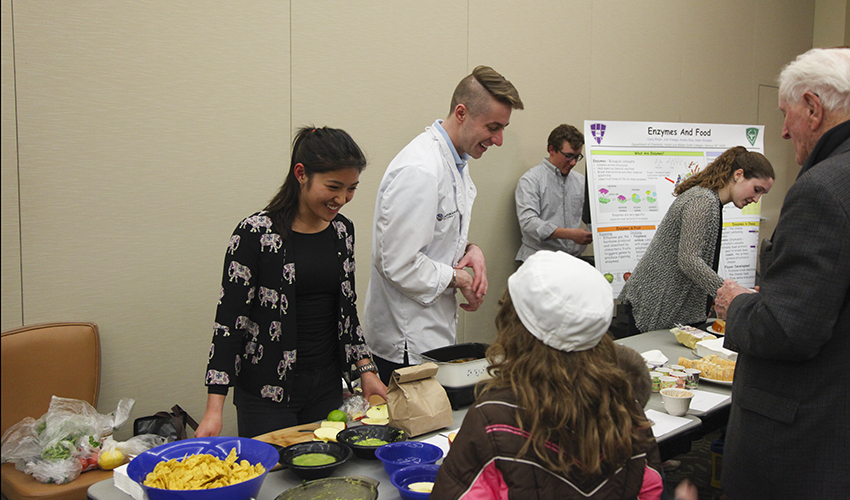 "This event was designed to give students an opportunity to flex their scientific communication muscles with a live audience. Appropriate communication of scientific principles is such an important part of any scientific education. What good does it do to develop scientific knowledge if you cant communicate your findings effectively, both to a scientific audience, but also to a lay community?," says Miller. "It's particularly exciting to be able to engage our local community over food-related science while also learning practical skills."
Students addressed the drawbacks of popular drinks often perceived as healthy such as sport and produce drinks that deliver less than usually promised; the nuances of nutritional fact labels; and the rise of false information about healthy eating perpetuated by social media.
"Our food labels are a product of many social, economic and regulatory processes that often find themselves at odds with each other, hence the complexity," explains Miller, who has been teaching the popular food chemistry course since 2010 after receiving a grant from the Center for Teaching and Learning.
In addition to this weeks public forum, Miller and students from his Bonding with Food class are preparing for the Edible Science Fair an interactive event that welcomes the Geneva and HWS communities to learn about chemistry in the kitchen on Monday, May 1 from 6 to 8 p.m. in the Vandervort Room of Scandling Campus Center.
"The Edible Science Fair is designed to engage everyone, from kids whove just learned to talk all the way up to their grandparents or great-grandparents," says Miller. "The exchanges I've witnessed between students have been memorable and everyone does a great job."