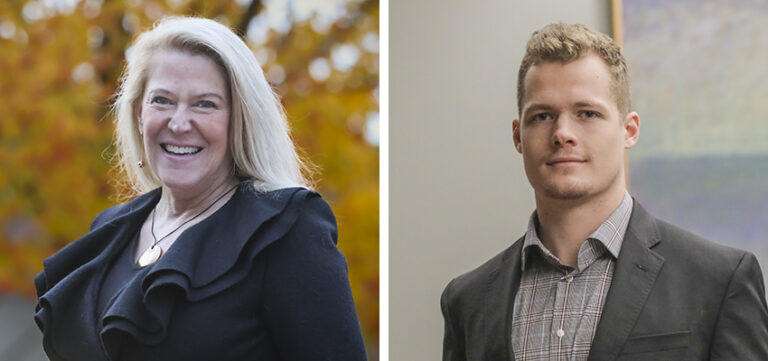 HWS News
28 January 2022 • Alums Mentorship that Maximizes Potential
Director of the Centennial Center Amy Forbes shares a story of significant mentorship.
At the Centennial Center, a cornerstone in our student programming is creating mentorship relationships. Typically, we connect individuals in our HWS alum and parent network with current students who need real world advice on a project they've undertaken. We are dedicated to supporting these relationships during a student's four years as well as after graduation. We're even more delighted when we hear about a mentorship relationship that has taken off, especially when it between two friends of the Center – in this case, Sabrina Horn '83 and Ben Greiner '18.
Sabrina Horn is a powerhouse executive in PR and marketing who started her own firm when she was just 29 years old. She spent 25 years steering technology companies through growth, crisis management and economic stability. She met Ben Greiner while he was studying in graduate school and developing his emerging technology company, TadHealth. Ben pitched this idea in the Todd Feldman and Family Pitch contest at HWS as a finalist in 2018. Since graduating from HWS, he has made steady progress on the platform, which assists individuals with mental health resources when they need it most.
In the past six months, Ben has developed a fully scalable SaaS platform and launched a paid pilot with a major school district in Los Angeles. TadHealth has also partnered with Save.org, a global suicide prevention organization to pilot a patent pending crisis management and response system. Ben is excited about the future of TadHealth, its growing team of experts and the services it is providing which include mental health assessments and counselor/therapist access.
Ben says that when he first connected with Sabrina, he immediately understood how valuable her advice could be to his emerging company. "Her experience is dense and she has a mind centered around strategy, which has helped me organize what is next," he says. "She always tells me that as an entrepreneur, you can't just think about what you are doing today, but you also have to focus on 3 months, 6 months and 12 months out – that you need to read the market and be able to adapt. This frame of mind has helped me develop a heightened business acumen, and to make decisions that are necessary to move the business forward. I am grateful to have her support and insight as I continue to navigate being a startup founder."
Sabrina sees a lot of potential in Ben's company and enjoys playing the role of mentor to young entrepreneurs. "Ben's company, TADhealth, comes at a most critical time, and aims to help students and employees find access to mental wellness resources when in crisis. In less than a year, he has developed a patented technology, secured initial funding and won customers who are using his product. Mental wellness has become an industry, almost overnight, and he has the first mover advantage to make a direct impact on people's lives."
They both have advice to give student entrepreneurs when it comes to establishing mentors in their professional lives.
"Mentoring is extremely important to help entrepreneurs avoid making unnecessary business mistakes and also to provide reassurance or realignment at critical moments," Sabrina says. "As a young entrepreneur many years ago, I wish I had a mentor or advisor to talk with about my concerns and fears. Sometimes it was for validation, other times it was for that shot in the arm I needed to face a tough challenge ahead."
"Relationships are incredibly important, and a great mentor has a depth of past experience and at the same time acknowledges the space you are trying to achieve by giving you glimpses of wisdom and tough feedback," says Ben. "Great mentors are honest, thoughtful and know how to share their experiences to shed light on the ups and downs of the startup journey."
We're excited for Ben's future with TadHealth and love how Sabrina embodies the values of strong mentorship, which the Centennial Center is really committed to. If you'd like to be a mentor for a student in one of our programs, reach out to us at leadership@hws.edu. We know many of you feel the way that Sabrina does when she says, "It is a privilege to help others navigate those choppy waters and to be there as a sounding board, helping them achieve their goals."