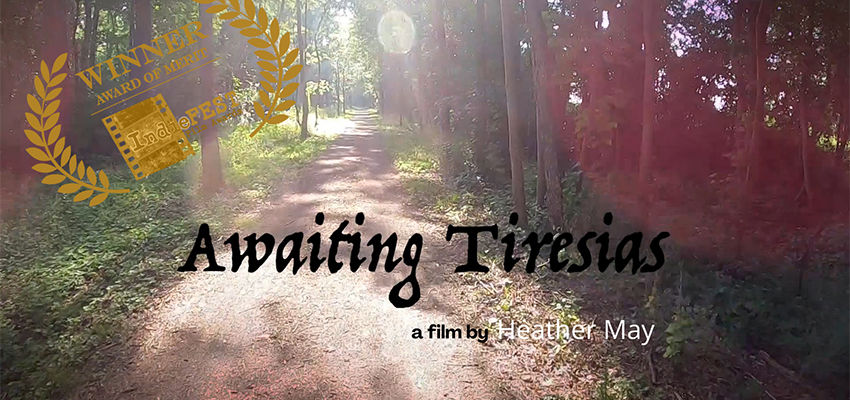 May Wins IndieFEST Awards
13 December 2021 • Arts May Wins IndieFEST Awards
Associate Professor of Theatre Heather May's short film exploring diagnosis, identity, and interdependence received two IndieFEST Film Awards of Merit in November.
In Awaiting Tiresias, theatre artist and Associate Professor of Theatre Heather May presents a journey into solitude, an exploration of the boundaries between diagnosis and identity, a search for community, and a musing on what it means to have vision. The low-budget short film received two IndieFEST Film Awards of Merit one for Disability Awareness, the other for Contemporary Issues / Awareness Raising.
The film carries audiences through May's physical and mental landscape as they face constantly shifting terrain. Shot with a GoPro, Awaiting Tiresias takes the audience with May on a run through the woods and into a medical office as they wait for answers. This film is an accessible embrace of impending darkness and a love song to liminality, challenging the primacy of visual imagery and asking audiences to listen as much as to watch.
With fully integrated captioning and audio description, the 24-minute film features performances by May, Charles King and the HWS Theatre Department's Resident Sound Designer Kelly Walker. Audio description was written by May and is voiced by Nicolas Shannon Savard '15, MAT'16. Video was shot and edited by May, with original compositions and sound design by Walker.
Learn more about Awaiting Tiresias.
Established in 2008, the IndieFEST Film Awards is an avant-garde worldwide competition offering a venue and exposure for directors, producers, actors, creative teams and new media creators. Discovering and honoring the achievements of artists who produce high quality films and new media, the IndieFEST promotes award winners through press releases to filmmakers, industry contacts and global media/distribution outlets. IndieFEST award winners have gone on to win Oscars, Emmys and Tellys.
A member of the HWS faculty since 2013, May is the inaugural recipient of the HWS faculty's Excellence in Diversity and Inclusion Award, has served on the Strategic Diversity Planning Committee and was a Fisher Center Research Fellow during the 2014-15 academic year. May's most recent scholarship, When I Can't 'See You at the Theatre': Creating Inclusive Processes for Vision-Impaired Performers, was recently published in Petronilla Whitfield's edited collection Inclusivity and Equality in Performance Training: Teaching and Learning for Neuro and Physical Diversity(Routledge Press, 2021).