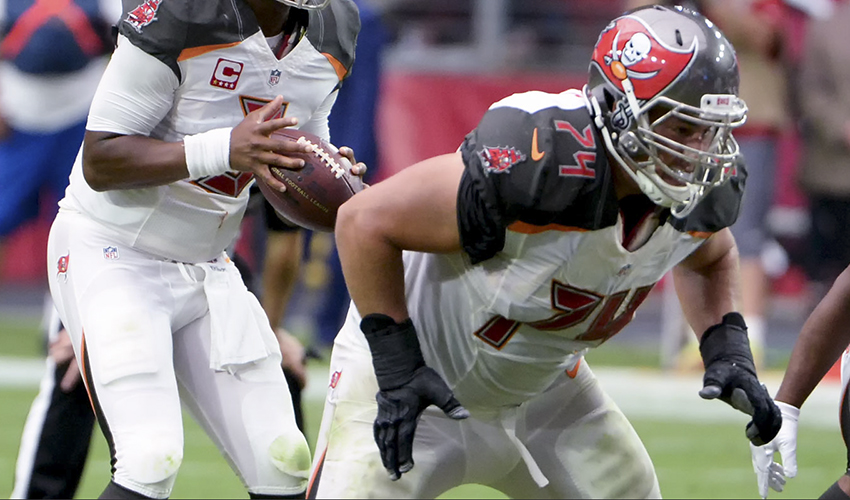 HWS News
10 September 2019 • Alums • Athletics Marpet '15 Voted Bucs Captain
For the second year in a row, Ali Marpet '15 has been voted captain by his Tampa Bay Buccaneer teammates. Marpet, the highest Division III draft pick in NFL history, has played on the Bucs offensive line since 2015. His co-captains this year include fellow offensive players Mike Evans and Jameis Winston; linebackers Lavonte David and Carl Nassib; and Dare Ogunbowaleon, special teams.
An All-American offensive lineman as a Hobart Statesman, Marpet was selected in the second round with the 61st pick by the Buccaneers, making him the first Division III student drafted since 2012 and the first Division III offensive lineman drafted since 1996, according to D3football.com. In the fall of 2015, he made his NFL debut as a right guard for the Buccaneers. That season, the team ranked fifth in the league in total offense, fifth in rushing and tied for first in the league in rushing average.
In 2017, Marpet was nominated for and voted by his teammates to serve as the Tampa Bay Buccaneers team representative to the NFL Players Association. At the NFLPA annual meeting, he became one of 11 players on the unions finance committee, a fitting role for Marpet, who studied economics at HWS.
Marpet, who currently starts at left guard for the Bucs, has been featured on the NFL Network, ESPN and CBS Sports Network, national publications like Sports Illustrated and USA Today as well as newspapers in every NFL market. The HBO documentary series Hard Knocks featured the Buccaneers during the show's 2017 season.
During his four years as a Statesman, Marpet and his classmates led Hobart football to a 41-5 record, the most wins for a graduating class in program history. Marpet, who served as a team captain as a junior and senior, helped the team capture four Liberty League Championships and appear in four NCAA Division III Football Championships, reaching the quarterfinals in 2012 and 2014.
During his senior season at Hobart, Marpet led one of the most effective offensive lines in the nation and didn't allow a sack for a line that ranked sixth in the nation in fewest sacks allowed. He was named a 2014 All-American by the AFCA, the Associated Press, and D3football.com. He was also the 2014 Liberty League Co-Offensive Player of the Year, the first offensive lineman to ever win the award.