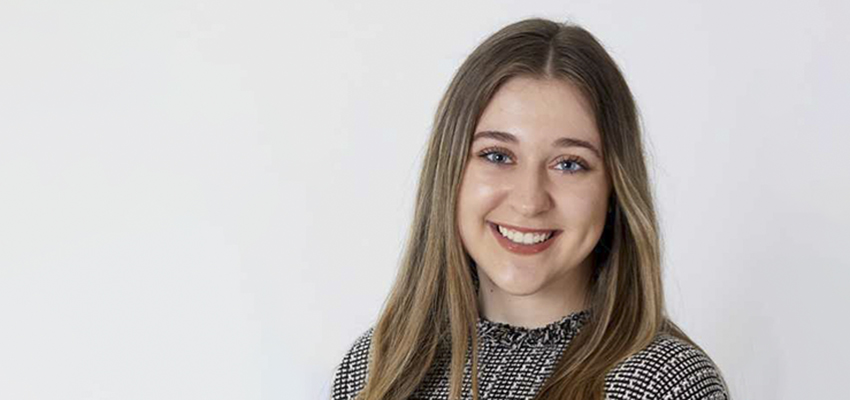 HWS News
15 June 2021

Liszewski '21 to Graduate School for Public Health

Kayla Liszewski '21 begins a Master of Public Health program at the University of Buffalo.

Kayla Liszewski '21 will soon begin her Master's of Public Health at the University of Buffalo. At HWS, she graduated summa cum laude in sociology while also earning a minor in public policy studies with a concentration in healthcare, cultivating her own interdisciplinary educational experience surrounding public health.

"I've been interested in the healthcare field since I was a young girl and visited my mom, a registered nurse, at work," Liszewski says.

Beginning in her first year at HWS, Liszewski used the Salisbury Center for Career, Professional and Experiential Education to explore her passions by connecting with alums such as Erie 1 BOCES administrator Patricia T.C. Ferrito '81, P'15 and completing a job shadow experience at the school that offers K-12 educational services and programs. "It was at Erie 1 BOCES where I became familiarized with how educational policies and standards are created and implemented," Liszewski says.

A subsequent job shadow experience at the Mower Agency marketing firm in Buffalo was integral in her "learning about the ins and outs of helping clients implement and manage marketing strategies."

In her junior year, a job shadow at Jewish Family Services of Buffalo & Erie County led to a summer internship with Emily Smith '18, a case manager for refugee resettlement at the agency. She later completed a 13-week remote internship with the Nauru and Papua New Guinea Program, where she assisted refugees across Erie County. "My main role was contacting them and explaining the COVID-19 pandemic, signs and symptoms of the virus, testing procedures, and CDC guidelines," Liszewski explains. She also offered refugees assistance in acquiring employment, food, transportation and housing.

Although Liszewski had a deep interest in public health before the COVID-19 outbreak, she says that the pandemic made her determined to pursue the field of epidemiology. "I wanted to fulfill my curiosities," Liszewski explains. "'What was this virus?' 'What was a pandemic?' 'What measures could be taken to protect people's general well-being?'"

Liszewski says the HWS curriculum and an independent study with her adviser, Associate Professor of Sociology James Sutton, helped her pursue the intersection between public health and the criminal justice system. "The independent study helped me truly appreciate and learn about how diverse and impactful the public health field is within society," she says.

On campus, Liszewski served as co-publicity officer on the Koshare Dance Collective Executive Board and was a teaching fellow for the Sociology Department.