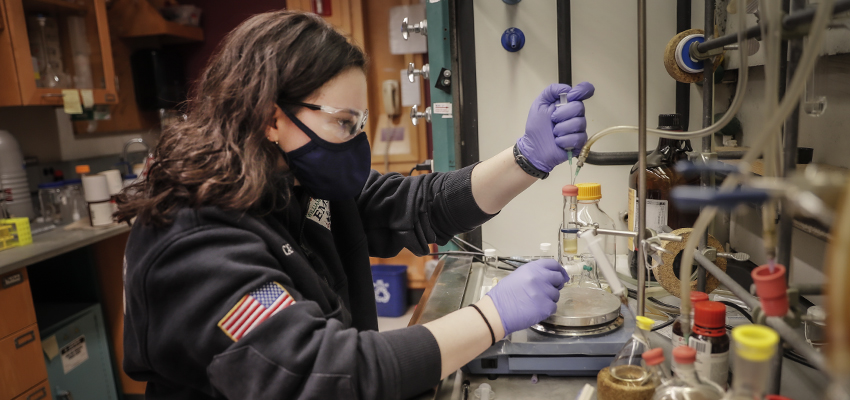 HWS News
16 April 2021 • Research • STEM Lewicki '21 Earns NIH Research Training Award
Sarah Lewicki '21 is the recipient of a prestigious award that will support up to two years of hands-on biomedical research training at the National Institute of Diabetes and Digestive and Kidney Diseases.
This spring, the National Institutes of Health selected Sarah Lewicki '21 for a highly competitive Postbaccalaureate Intramural Research Training Award.
The award supports full-time research opportunities for recent college graduates who are planning to apply to graduate or professional school in medical or related fields. Based at NIH facilities, recipients work side-by-side with some of the leading scientists in the world, in an environment devoted exclusively to biomedical research.
After graduation this spring, Lewicki, a chemistry and neuroscience double-major, will join the medicinal chemistry lab of Dr. Kenneth Jacobson at the National Institute of Diabetes and Digestive and Kidney Diseases in Bethesda, Md.
There, Lewicki will test therapeutics derived in the lab using a technique called flow cytometry, which enables scientists to determine whether those drugs are correctly targeting protein receptors that regulate blood flow and immune responses.
As a member of Professor of Chemistry Justin Miller's research group at HWS, Lewicki has honed the analytical chemistry skills that will serve her at the NIH, from the attention to detail required for practicing laboratory benchwork to the nuances of operating complex instrumentation. Most recently, she has been running solid-phase peptide synthesis reactions, part of the process of developing anti-cancer therapeutics.
"She really thrives in a research lab," Miller says. "She's organized. She's independent."
And as a captain of the Colleges' EMS team, Lewicki is also "good at managing people," Miller adds. Recognizing this leadership, he has relied on Lewicki's assistance in supervising the lab, to be "the person that her peers go to when they have questions."
Taken together, these experiences reflect her depth and seriousness as a scientist, Miller says. "When you go on and get a position like this one at the NIH, that makes a real statement about who you are and what it is you want to do with your career."
Having considered both M.D. and combined M.D./Ph.D. programs after graduation, Lewicki says the NIH training is an ideal opportunity to help her decide. "No matter what path I take, it's going to be a very long road," she says. But between the research and the "advisors that can prepare you to apply to grad school and med school," her time at the NIH "will definitely give me a better idea of what I want to do."