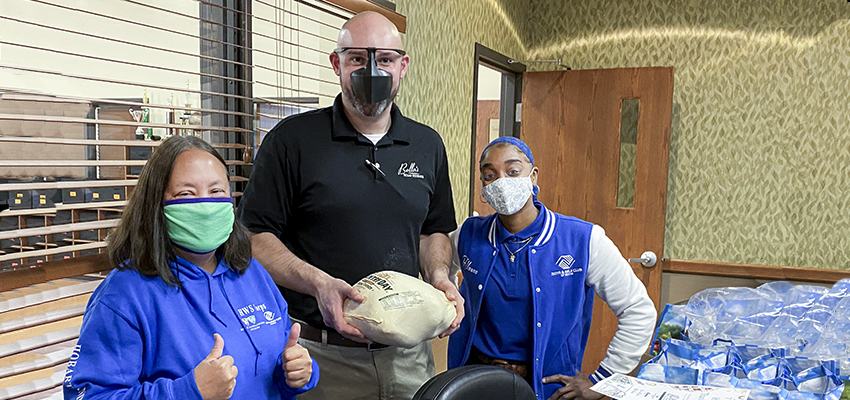 HWS News
21 December 2020 • Alums Lavin '81 Rallies HWS and Geneva to Feed Local Families
With the help of the HWS community, Chris Lavin '81 raised funds to provide Geneva families with meals at Thanksgiving ­— and ended up having enough to deliver Christmas dinners as well.
Executive Director of the Geneva Community Center and the Boys & Girls Club Chris Lavin '81 knew that because of the coronavirus pandemic, some Geneva families would find it difficult to put a meal on the table this holiday season.
"Everyone wanted the pandemic to be over, but we knew heading into the holidays that it wasn't ending and families would still be struggling for work, food and patience," says Lavin. "So the Boys & Girls Club turned to some of its best partners and decided to make sure families would have substantial holiday meals."
Through the generosity of the HWS community and Geneva businesses and organizations — including Bella's Ristorante, Wegmans and individual donors — Lavin raised enough to cover the cost of 110 meals needed for Thanksgiving dinner. President Joyce P. Jacobsen stopped by to help Assistant Executive Director Allauna Overstreet-Gibson '14 with the packing and delivery operation.
After the cost of food and delivery, the team at the Boys & Girls Club had enough money left over from the initial fundraising effort to repeat the process for Christmas dinner. On Monday, Dec. 21, 100 Geneva families will receive a box that includes ingredients for a full holiday meal: a roaster chicken, lasagna makings, side dishes and a cookie tray, the latter personally donated by Geneva Wegmans manager Matt Morano.
"Hundreds of families are getting a clear message of caring and support from Geneva throughout the holiday season," says Lavin. "That's the community at its best."
In the image above, President Joyce P. Jacobsen helps pack Thanksgiving dinners with Dick Austin of Bella's Ristorante and Boys & Girls Club Assistant Executive Director Allauna Overstreet-Gibson '14.