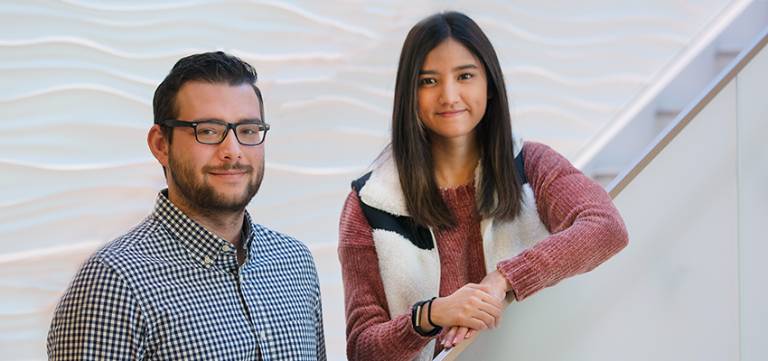 HWS News
8 March 2018

India and Czech Republic for Padnos Scholars

In recognition of outstanding scholarship, the Padnos Family Endowed Internship and Travel Award will support Shweta Patel '18 and Aidan Ely '18 as they conduct research in India and the Czech Republic respectively over winter break.

Funded by gifts from Jeffrey S. and Margaret M. Padnos P'11, the annual award supports HWS students interested in an internship or research experience abroad. Applicants who intend to pursue a sustainability internship or research experience are given preference.

Patel, a biology major, will conduct field research on prenatal and neonatal health as an intern with the Public Health Foundation of India. On the front lines of Indias efforts to improve healthcare, Patel will join researchers in surveying the city of Bangalore, maintaining data quality and coordinating with other agencies as the Foundation develops a model for educating the public on risks to pregnant mothers and young children.

"My curiosity about the overlap between medical science and globalization has guided me toward careers in global healthcare," says Patel, who is considering graduate programs in global affairs. "Interning with the Public Health Foundation of India will reinforce my current knowledge and interest in the field."

While studying abroad in Prague, Patel solidified her interest in public health while interning at a physical therapy clinic. "I realized that although I appreciated the sciences, I wanted to focus on policy and making sure that people have access to great healthcare," says Patel, who is a member of William Smith Congress and Koshare Dance Collective. "At HWS, I have learned to balance technical knowledge with interpersonal skills, which has prepared me for fieldwork and strengthened my ability to communicate with people from a variety of backgrounds."

Ely will venture to Prague to conduct research on human rights violations and environmental injustice committed by the USSR during the Cold War. A political science and American studies double-major, Ely is working under the direction of Professor of History Derek Linton in hopes of publishing his research in an international political journal.

"I believe that in order to understand a moment or concept, it is best to place yourself as closely as possible to the historical site," says Ely, who returns to Prague after a semester abroad last spring. "During the Cold War, the people of Prague stood up to protect what they felt they needed to defend, which is important to witness as I continue to study the humanitarian drives and protest movements in politics."

Ely, who is considering graduate school, says that the strong research opportunities at the Colleges have prepared him for field work in Prague. He previously conducted an independent study on the militarization of law enforcement and police brutality, and interned at a law firm last summer in Schenectady, N.Y.

"I've developed a deep passion for human rights and environmental policy from the courses I have taken at the Colleges," says Ely, who is also an Emergency Medical Technician in the Finger Lakes and Rochester areas. "I am looking forward to producing work that contributes to a larger dialogue."