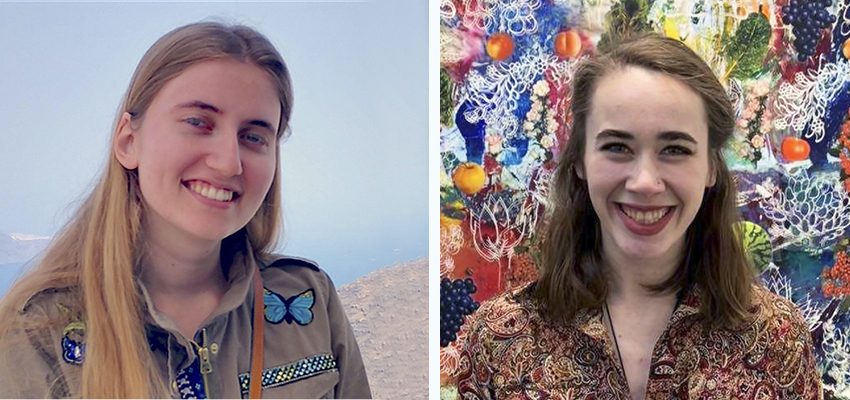 Independent Study Urges Young People to Explore Their Identities
23 June 2020 • Research Independent Study Urges Young People to Explore Their Identities
As part of an independent study, studio art major Grace Hammett '20 and architectural studies major Caroline Turino '20 published an online booklet and website titled "Today I am…" that includes activities for creativity and reflection for elementary and middle school students.
Under the direction of Associate Professor of American Studies Kirin Makker, the independent study aimed to research the field of "creative placemaking" by applying key ideas and theories to practice through the design and implementation of a local community based project. Hammett and Turino were inspired by artists Amanda Maciuba and Sarita Zaleha, whose work seeks to directly engage the public.
While initially proposing to host a community event in the City of Geneva, Hammett and Turino adapted their project due to COVID-19 restrictions to give "everyone access to a creative outlet," as schools closed and quarantine measures moved people inside.
The website developed for K-8 students features an 8.5" x 11" downloadable booklet, which includes exercises for making a book, drawing, writing, imagining, reflecting on self and community, and observing the world. Students are encouraged to reflect in writing and drawing through prompts such as "Advice to My Future Self" or "If I Were a Superhero I Would Wear…" Many of the prompts encourage students to think about who they are and who they want to be.
"Everyone's story is worth documenting, especially during a global health crisis," they explain on the website. In order to make the booklets accessible to more children, Hammett and Turino provided the materials in both English and Spanish.
"As many young children are home during COVID-19, and some are falling behind in school, these activities allow young children to practice drawing, reading and writing skills in a fun way," Turino says.
Hammett and Turino also created a printable "Daily Comic" booklet, which includes space to write about daily observations, and a "Mind Map" activity, which prompts students to draw a map of their favorite places. The website also features examples of completed booklets.
"If possible, Grace and I would like to continue this project by adding new activities to the website or holding an in-person event later this summer depending on whether it's safe to do so," says Turino.
On campus, Turino was a member of the Eta Sigma Classics Honor Society. Hammett was a member of the Alcohol and Drug Addiction Prevention Team, HWS Pride and the Arts and Design Collective, and served as a tutor with the Boys and Girls Club.