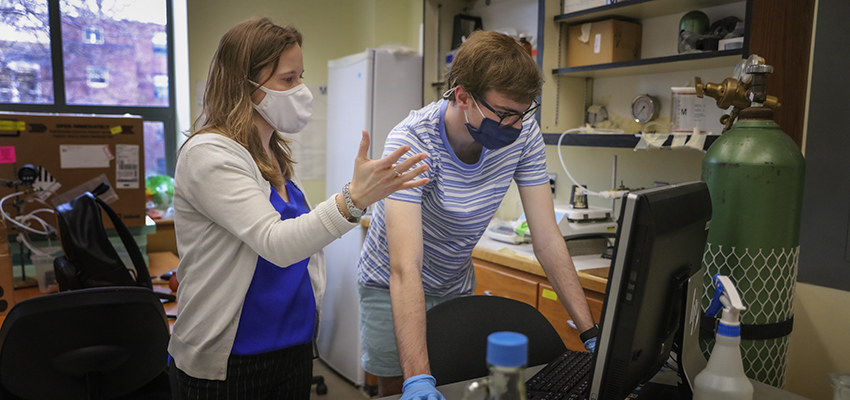 HWS news
30 April 2021 • Research • STEM Improving Filtration for Cleaner Water
In his research at HWS, biochemistry major Noah Kilmer '21 is finding new ways to improve the efficiency of water filtration and purification systems.
Using water pressure and a series of filters, reverse osmosis is a common method of water purification. But as Noah Kilmer '21 explained in his recent Senior Symposium presentation, it "has been plagued by biofouling, which is the buildup of biological material that makes the membrane less efficient, much like the buildup of leaves at the end of a gutter."
Under the guidance of Assistant Professor of Chemistry Elana Stennett, Kilmer has been exploring how to reduce membrane fouling and improve the efficiency of water filtration.
"Our planet is covered in water, yet very little of that water is actually drinkable," Kilmer says. Add to that growing populations and the challenges of scarcity and pollution, and it's clear that filtration is a vital area of research.
Kilmer has explored how various membranes, buffer systems and proteins interact in the filtration and purification process. In an article published this winter in the journal Separation and Purification Technology, Kilmer, Stennett and coauthors Rebecca Huss '22 and Carolyn George '22 detailed their research on the efficacy of various membranes in the presence of different ions and at different ionic strengths.
Most recently, Kilmer has been studying the presence and impact of pharmaceuticals in water treatment. When he and Stennett attended the American Chemical Society Convention in 2019, they saw a presentation on the rising rates of pharmaceuticals in wastewater. Kilmer followed his curiosity on the subject into the lab at HWS, where his research developed into his Senior Symposium presentation.
The project describes how he managed the challenges of increased biofouling, including "the variability of the contents of wastewater." Kilmer devised "a model system which is composed of two parts: the filtration set up and the solution that is being filtered. The filtered solution is also composed of two main parts, the buffer and the biological material. The buffer allows us to introduce different ions, adjust ionic strength, and adjust the pH."
By manipulating the biological variables, he and Stennett were able to identify the effects of a single component on the biofouling of membranes.
"If we can manipulate the amount of biofouling that a membrane experiences, we have more control over the efficiency of the process," Kilmer explains.
And better efficiency means cleaner water.
In addition to his biochemistry major, Kilmer is a psychology minor, a member of the HWS student chapter of the American Chemical Society and Vice President of Pre-Health Club. He is currently studying for the LSAT and intends to pursue a law degree.