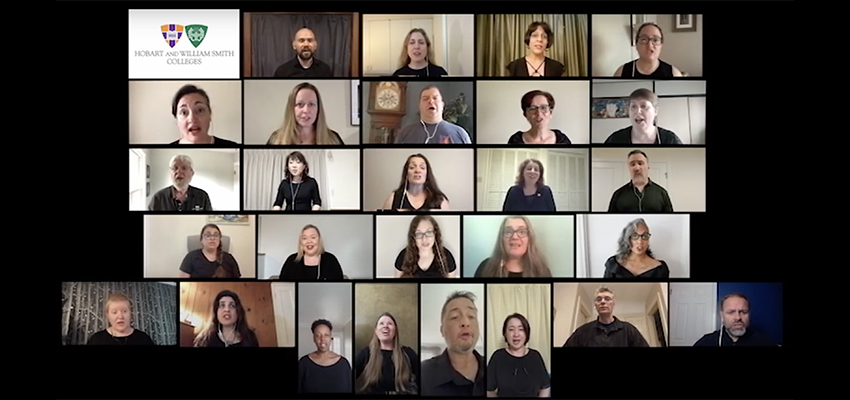 HWS News
4 August 2020 • Alums HWS Singing Nerds Share Message
As a message of hope and solidarity in trying times, a group of Hobart and William Smith Colleges alums from the 1990's and early 2000's came together virtually to share a musical message with the greater HWS community.
The idea to reconnect came from Amanda Myers Lombardo '95 and was also organized by Eleanor Hamlin '97. In April, Myers Lombardo reached out through Facebook to ask a group of alums to create a rendition of the song Irish Blessing.
"This is a call from a faraway friend, a fun note passed in class, a text from your crazy cousin. We love all of you," shares Mary Ognibene '96 and the rest of HWS Singing Nerds, as the group is affectionately named, in a letter that accompanies the video of their completed piece.
The HWS Singing Nerds is comprised of Kate Alois Balog '96, Meredith Beckley (Private Voice Student '92-'97), Dr. Kelly Bremner '99, Annalisa Brown '96, Christine Conklin '98, Tonya Davis '98, Rev. Lindsey Green Eklund '98, Eva Bach Engelhard '00, Kristin Longhouse Goold '93, Aparna Halp '96, Eleanor C. Hamlin '97, Jessica Weaver Kinsey (Private Voice Student '93-'97), Jason Lautzenheiser '96, Amanda Myers Lombardo '95, Miwa Okamura Matsunaga '94, Tom Mazur '99, Anjana Mohan '00, Jeff Morrison '92, Mary Ognibene '96, Stephanie Kluter Rael '97, Patricia Richmond '92, Ned Rogers '95, Kelly Rush '98, Barbara Johnson Swartz '97, Akemi Umehara (Exchange student '94-'95), Stanley Weaver (HWS staff retired) and Tim Whitwood '98.
The group teamed up with Jeff Morrison '92, a conductor and arranger who instructs middle school chorus; Stan Weaver, a videographer; and Jan Bach P'00, an accompanist. Jason Lautzenheiser '92 found the music and Anjana Mohan '00 provided the group with detailed instructions so that the piece could come together. Everyone found time in their off hours to record their own lines.
The HWS Singing Nerds dedicated the piece to "special members of the HWS community, the Classes of 2020, to the country's struggle to become a more just and equitable society, to all those we lost to COVID, and to those we will still lose before this is done."
"All of these things are happening to us, but what binds us is still here, and it is powerful. Music is here. The opportunity for growth is here. It's staggering the amount of love that is here," Ognibene says. "Let's rely on these certainties as we move forward. We know them to be true, and that is guide enough."