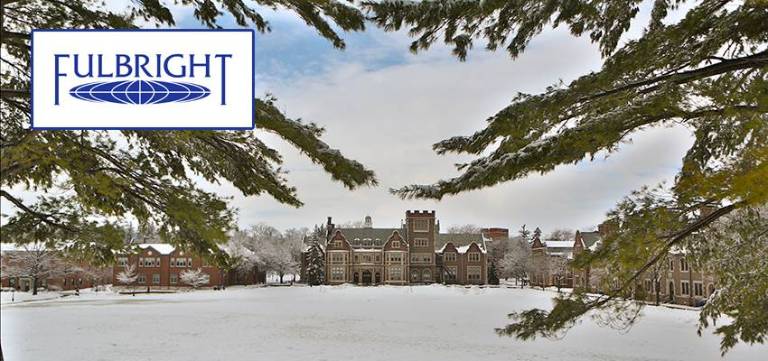 HWS News
27 April 2018

HWS Recognized as Top-Producing Fulbright Institution

For the third year in a row, Hobart and William Smith have been recognized as one of the nations top colleges and universities with the most recipients of U.S. Fulbright Student Awards.

In the past three years, there have been 18 Fulbright recipients; the four most recent recipients are Sara DeVault-Feldman 17 (Vietnam), Juliana Heffern 17 (Malaysia), Jordan Loretz 17 (Taiwan) and Danielle Mueller 16, MAT 17 (Czech Republic). Fulbright is the U.S. governments flagship international educational exchange program.

I am continually impressed by our students. Their resumes are stuffed with academic, extracurricular and professional accomplishments, says Scott MacPhail, associate director of health professions counseling and fellowship advising. But even more important to their success with the Fulbright program is the fact that their exemplary character shines through in their consistent commitment to engage with local and global communities, and in their drive to both learn and teach through the exchange of ideas, experiences and cultural perspectives.

MacPhail says there are many factors that help propel successful Fulbright student scholars, including support from faculty mentors and study abroad opportunities.

The Fulbright recognition follows other national accolades for HWS, including being ranked the No. 1 school for study abroad opportunities and for having one of the most actively engaged student bodies, according to The Princeton Reviews 25 Best Schools for Making an Impact. In addition, the Colleges were cited among Forbes best ROIs in higher education, selected as one of Sports Illustrated and Money magazines best schools for sports lovers, and featured as one of the top 50 greenest institutions.

The Top Producer announcement was made by the U.S. Department of States Bureau of Educational and Cultural Affairs and is featured in The Chronicle of Higher Education. Since its inception in 1946, the Fulbright Program has provided more than 380,000 participantschosen for their academic merit and leadership potential with the opportunity to exchange ideas and contribute to finding solutions to shared international concerns. More than 1,900 U.S. students, artists and young professionals in more than 100 different fields of study are offered Fulbright grants to study, teach English, and conduct research abroad each year. The program operates in more than 140 countries.

To learn about applying to the Fulbright program at HWS, you can email the Salisbury Center for Career, Professional and Experiential Education at cso@hws.edu. For information about the Fulbright Program, visit: http://eca.state.gov/fulbright.