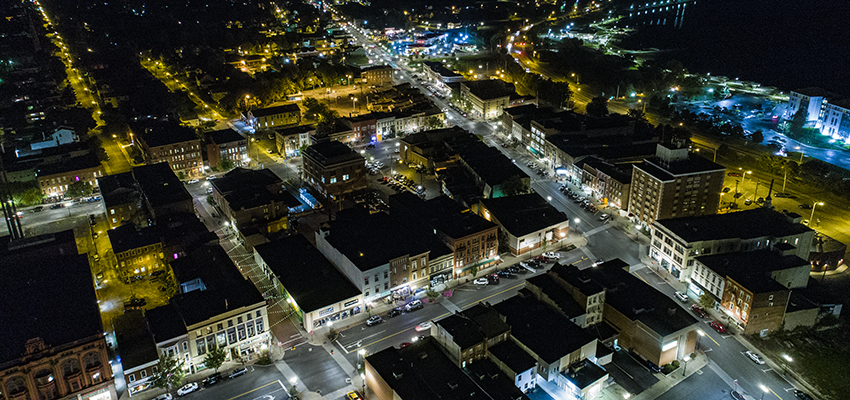 HWS News
13 October 2020 • Alums • Faculty HWS' Pandemic Response Detailed in International Journal of Community Well-Being
Hobart and William Smith and the Geneva community innovated rapidly in response to the global pandemic, Assistant Professor of Entrepreneurial Studies Craig Talmage explains in an article he co-authored with 11 HWS students, faculty and staff. Their interdisciplinary scholarship was published in the International Journal of Community Well-Being and describes acts of resiliency and creativity spirited by members of the HWS community from March through June.
The scholarship was a collaboration between authors: Talmage, Associate Professor of Anthropology Christopher Annear, Kate Equinozzi '23, Director of the Center for Community Engagement and Service Learning (CCESL) Kathleen Flowers, Grace Hammett '20, Assistant Director of CCESL Amy Jackson, Associate Professor of Psychological Science Julie Newman Kingery, Assistant Professor of Environmental Studies Robin Lewis, Associate Professor of American Studies Kirin Makker, Audrey Platt '21, Travis Schneider '21 and Caroline Turino '20.
Each of the authors contributed vignettes about their pandemic response efforts. Their stories showcase how the HWS and Geneva community demonstrated community resilience, both by enduring and responding to the challenges presented by COVID-19, and present opportunities for future and continued partnerships between colleges/universities and their communities.
They include:
CCESL partnered with students in Social Innovation for the Entrepreneur and community stakeholders toreview the website ConnectGeneva. The website provided bilingual (English and Spanish) information regarding community resources and COVID-19 safety recommendations for the community. The website also listed socially distant and in-person volunteer opportunities.
CCESL mobilized the HWS Tutor Corps and America Reads tutors to create online educational materials. The tutors videos were posted on YouTube and featured book reviews, discussions and other educational activities. Students from the Education Department as well as students enrolled in Associate Professor of Education Mary Kelly's Children with Disabilities course contributed content to the channel. All together, the videos were viewed more than 700 times.
This effort was also met with additional resources cultivated by students from Associate Professor of Psychological Science Julie Kingery's Introduction to Child Psychology.
Faculty members Makker and Lewis contributed reflections on how they pivoted learning objectives and approaches in the classroom.
In Environment and Development in East Asia, Lewis expanded a unit on the study of the Balinese principle of Tri Hita Karana (the three causes of well-being) and the Indonesian concept of gotong-royong (the principle of mutual cooperation or assistance). Students wrote reflection pieces that identified instances in which an ethics-of-care was evident in their own communities in the era of COVID-19.
As part of an independent study in Creative Placemaking with Makker, studio art major Grace Hammett '20 and architectural studies major Caroline Turino '20 published an online booklet and website titled Today I am that includes activities for creativity and reflection for elementary and middle school students.
To enfranchise voters during the pandemic, HWS Votes increased its political literacy efforts. They partnered with the League of Women Voters to learn more about Ontario County elections and collaborated with the Office of Intercultural Affairs to host weekly political couch parties over Zoom.
On the topic of racial justice, Annear authored a section about how the HWS community responded to the civic, academic and psychosocial needs that manifested after the death of George Floyd. HWS faculty, students, staff and community activists planned and hosted a four-hour teach in on Zoom titled Voices of Protest and Love: Liberatory Knowledge in the Hour of George Floyd.
Read the full article here.