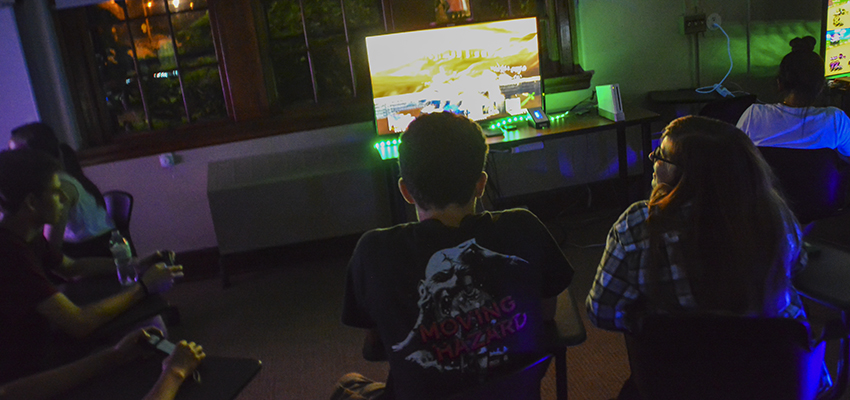 HWS News
16 April 2021 • Athletics HWS Launches Esports Varsity Program
Hobart and William Smith welcome the addition of Esports as a competitive varsity program beginning in the fall 2021 semester.
The varsity Esports program has been developed in response to student interest in the E-Scape Club. Founded by HWS students in 2017, the club grew exponentially in its first year, attracting more than 125 members and prompting the Colleges to retain Uni Esports Group to lay the groundwork for the varsity program.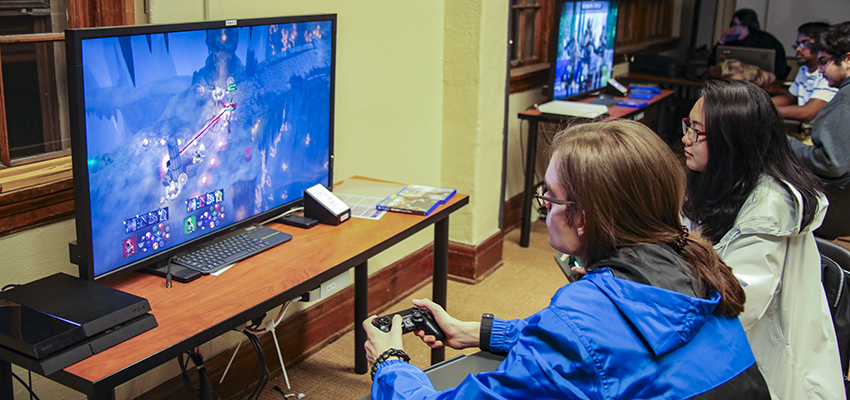 Beginning in the fall, the HWS Esports team will play teams from across the country. Competitions will be streamed via Twitch, the online service used to watch and stream digital video broadcasts.
"Our new varsity Esports program will open up important avenues for students to learn, compete and build community," says HWS President Joyce P. Jacobsen. "Alongside teamwork and leadership skills, Esports exposes students to new media, cutting edge technology and strategic thinking that intersects with classroom lessons and post-grad opportunities."
HWS will join the National Association of Collegiate Esports (NACE). Formed in 2016, NACE is the largest governing body of intercollegiate Esports in the country, with 170-member institutions.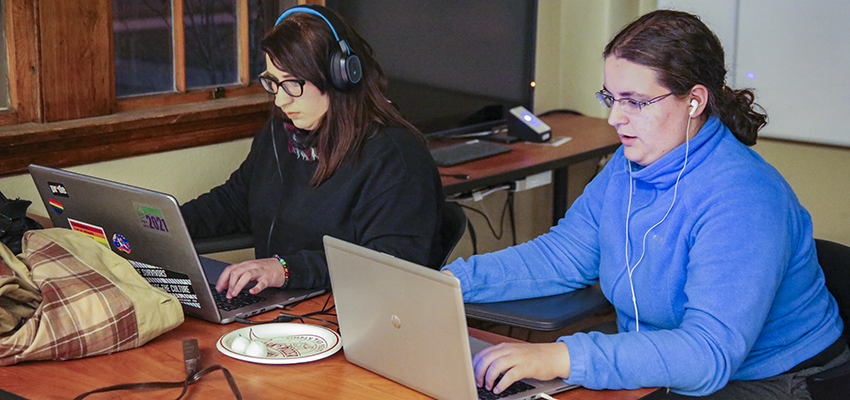 "Esports is a new and growing industry and Hobart and William Smith plan to make sure we are leaders in this emerging market," says HWS Sustainability Manager Michael Amadori, who will coach the Colleges' team. "According to Business Insider, total Esports viewership is expected to grow at a nine percent rate between 2020 and 2023. This has resulted in large amounts of ad revenue flowing into the field and competitors are able to make substantial money. The growing popularity of Esports and the fun and social nature of the competitions will be a new and exciting opportunity for our students, and we want to ensure they have the support they need if this is something they want to pursue."
Dante Herrera '21 cofounded the E-Scape Club during his first year on campus, hoping to recreate the casual, community environment of the gaming cafés he frequented at home in Los Angeles. On Friday nights, the club has hosted popular "drop-in" sessions, allowing students to play "as many games as possible in a comfortable environment," Herrera says. "We loved the idea of competition though, and in the back of our heads, we dreamed of representing HWS and winning tournaments on the national level."
The E-Scape club team will continue to operate parallel to the new varsity program, advised by Torii Bicondova, an Area Coordinator in the Office of Residential Education.
The evolution from club to varsity status "is a wonderful example of students demonstrating initiative and organization to move an idea from concept, to pilot and now to full implementation," says Vice President for Student Life Robb Flowers. "Not only are we very pleased to have the wide interest among our students, but we are pleased to watch students grow and learn through this multi-year effort."
In the photograph above, Phillip Hsieh '22, Jae Kim '21 and William Persina '22 play Super Mario Smash Bros. at the After Dark Gaming Night organized by the E-Scape club and the Office of Residential Education in 2019.