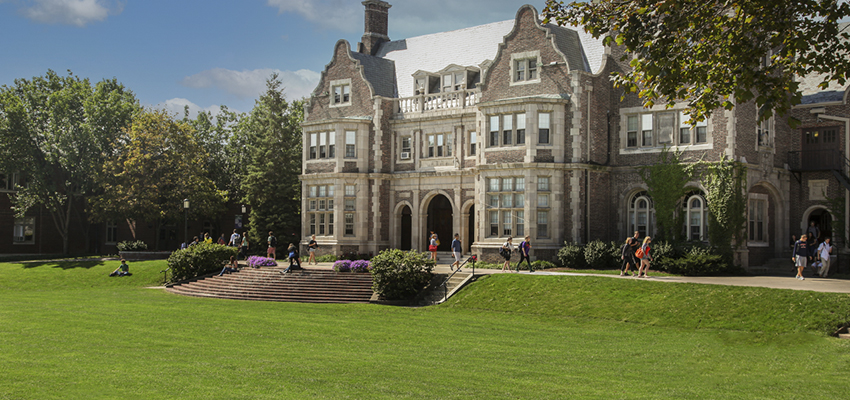 HWS News
10 June 2021 • STEM Dental School for HWS Grads at Harvard, UPenn, Conn, BU
Four recent Hobart and William Smith alums have been admitted to some of the premier dental schools in the world, including programs at Harvard and the University of Pennsylvania.
Between his coursework and summers "shadowing dentists and volunteering at health clinics," Bartolomeo Voto '21 is "confident that my time at HWS has prepared me for a future in the health professions."
This summer, Voto, Dani Gosselin '19, Chelsea Herr '20 and Sarah Sveen '20 will all begin studying for their degrees in dental science. Voto will attend Harvard Dental School; Gosselin, the University of Connecticut's School of Dental Medicine; Herr, Penn Dental School at the University of Pennsylvania; and Sveen, Boston University's Henry M. Goldman School of Dental Medicine.
Gosselin had planned on pursuing a career as a physician's assistant until she was awarded a Padnos Family Endowed Internship and Travel Award. The grant supported her internship at the Chitwan Medical College Teaching Hospital in Nepal, where she worked in a range of departments. It was in the hospital's dental ward where she noticed that "patients were leaving the most satisfied. Although they were coming in in pain, with swelling, in tears, and I didn't speak Nepalese, I saw the change in body language and the patients leaving in immediate relief," she says.
When she returned to the U.S., Gosselin found job-shadowing and internship experiences that gave her an appreciation for how dentists are "not only able to improve immediate health but also have an impact on overall wellbeing."
Sveen, who plans to pursue a specialization in pediatric dentistry, was drawn to the field for similar reasons. Hoping to improve patients' quality of life, she "fell in love with the intricacy and hands-on procedures dentists perform" and the impact they have on children and adults coping with dental illnesses.
Between her biology major, study abroad experience in Brisbane, Australia, entrepreneurially focused independent study, and the "holistic and well-rounded education," she says HWS supported her goals and "helped to shape who I am today. HWS allowed me not only to study the sciences, but also entrepreneurship and learn basic business skills and terminology that can help me in the future as I hope to work at and own a private practice," Sveen says.
For Voto, the internship experiences and range of coursework at HWS helped underscore the idea "that wellness is a broad concept and being a great health professional requires cross-cultural understanding and respect." From biochemistry, anthropology and environmental studies, to internships at dental practices, he learned "to think critically and pay attention to the smallest of details; both of which are extremely important skills for a dentist."
After his first year at the Colleges, Voto served as a dental assistant for a Remote Area Medical Rural Health Clinic in in Appalachia, Va. "It was at this clinic where I realized my privilege in access to proper health and dental care," he says. For residents of the town "and many other areas across the country, 'simple' medical visits such as checkups and dental cleanings are a luxury. After this experience, I vowed to return to these underserved areas as a dentist who is committed to using my skills to benefit those who need them most."
During the dental school application process, Gosselin, Herr, Sveen and Voto were supported by the HWS Health Professions Program, which offers a curriculum and individualized advising for students interested in pursuing careers in medicine and related fields. Over the past five years, the placement rate for HWS graduates in medical, dental and veterinary schools has exceeded 80%, well above national averages.
The photo at top features Chelsea Herr'20 (center) working in a chemistry lab in Lansing Hall with Rizky Kafrawi '20 and Allie