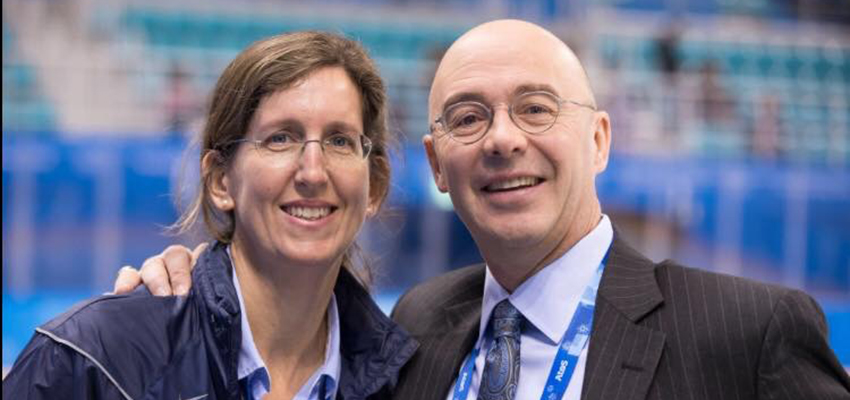 HWS News
6 March 2018 • Alums HWS Alums Making History in Olympic Gold Win
When the U.S. Women's Hockey Team won the Olympic gold for the first time in 20 years, Team Physician Dr. Allyson Shirtz Howe '94, NBC Sports Analyst Pierre McGuire '83 and NBC Sports Correspondent Dave Schwartz '01 left their own impact on the Winter Games as the team skated to victory in a 3-2 overtime shootout.
Shirtz Howe, who wore her William Smith soccer gear in the Olympic Village gym each day, helped maintain the teams strong line-up, treating players each night throughout the Winter Games.
"There was a moment when I remember thinking, I know were going to win. This is going to be a gold medal. We just knew they weren't going to let it go," says Shirtz Howe, who studied biology at William Smith.
Shirtz Howe previously traveled to Sochi in 2014 as a general physician for Olympics personnel. Before joining USA Hockey, Shirtz Howe served 20 years in the U.S. Air Force, including eight years on active duty. She then joined the sports medicine division at Maine Medical Center in Portland.
"If you put the time in and you make steps toward it, you can attain whatever you want. And I believe [Coach] Aliceann [Wilber] taught me that," says Shirtz Howe, who joined the Heron Hall of Honor in 2016 for accomplishments on the soccer team.
While at the Olympic rink, Shirtz Howe met fellow alum Pierre McGuire '83, the Emmy-winning host of NBC's Inside the Glass.
"With all of the credit players get, Ally plays just as big of a role as anybody, says McGuire," who played defense for Hobart hockey before playing professionally. "Treating players at this level is an incredibly tough experience. She is someone who deserves a ton of respect."
In his seventh Olympic games, McGuire interviewed key players in NBC's rink-side coverage. Throughout his career, McGuire has touched every corner of the hockey world flying to cover games so frequently that he knows airport security officials by name.
"I do it because I love it. I respect it because I love the game. I get a charge every day that I'm at the rink and I hope that never stops," says McGuire. "The Olympics are awesome and it's one of the greatest experiences that you can have in a lifetime."
In 2013, McGuire won an Emmy for Outstanding Sports Personality- Sports Reporter for his work at NBC. In addition to professional hockey, he covers collegiate hockey for NBC. A former scout, coach and executive in the NHL, McGuire helped the Pittsburgh Penguins win back-to-back Stanley Cups as an assistant coach.
McGuire's coaching career began at Hobart after a year as a professional hockey player in Europe. An English major at the Colleges, McGuire joined the hockey team in his first semester. "We all kind of had the chance to grow up together and we've remained friendly over the course of 40 years," he says.
Also in Olympic Park, Schwartz covered 20 athletes and interviewed new gold medalists in hockey and curling.
"These are regular people who have extraordinary abilities. You're covering them as a journalist, but you get to know them well and thats what makes this so rewarding for me," says Schwartz, who previously covered the 2014 games. :When you cover the Olympics, we are members of Team USA, which is different from covering professional sports because we dont live in their world."
After earning an economics degree from Hobart and a master's in journalism from Syracuse University, Schwartz won an Emmy for on-camera talent at the 2011 Upper Midwest Emmy Awards in Minneapolis.
"There's always that one moment after the Olympics when it's finally quiet," he says. "That moment was when we were on the train going to Seoul, and I just thought about how grateful I am and what a remarkable experience this has been."