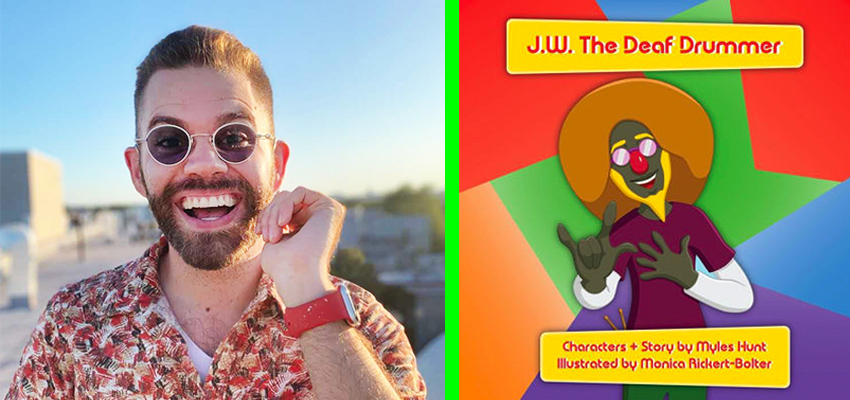 HWS News
22 February 2021 • Alums Hunt '11 Authors Children's Book on Deaf Culture
Myles Hunt '11 has authored a childrens book titled J.W. The Deaf Drummer. The story follows J.W., a deaf musician, as he teaches friends how he communicates and lives in a hearing world.
Author and creative visionary Myles Hunt '11 has released his first childrens book, J.W. The Deaf Drummer. The story follows the main character J.W. as he navigates the world through sign language, lip reading and love for his friends and music.
"As a lifelong hearing aid wearer and hard of hearing (HOH) person, I remember growing up and admiring those in the deaf and HOH space who somehow made it look easy to advocate for themselves and push ahead with their own ambitions, despite their hearing loss," Hunt says. "J.W. is a culmination of the best of those people and a hope that readers can learn a bit more about the world they live in."
Captivated by Sesame Street's initiative to make learning fun, specifically in the Muppets, Hunt majored in arts and education at HWS. Hunt says he gained valuable mentors in the Colleges faculty, including Associate Professor of Education Mary Kelly, Professor of Art and Architecture Ted Aub, Professor of Dance Cadence Whittier and Emeritus Professor of Education Pat Collins.
At the Colleges, Hunt followed his passion for the visual arts. In 2009, he studied abroad in New Zealand with Kelly, allowing him to study education in a foreign context and Maori culture. He also received a SEAY Foundation grant to study the intersectionality of storytelling and visual arts through puppetry.
Up next for J.W. the Deaf Drummer, Hunt is creating Tune City, an animation series that highlights diversity and the language of music while following J.W. and his bandmates.
"These tales are surrounded by a wide array of characters, who together achieve a series of goals amid a range of differences. I love exploring diversity, and the art space is a prime example of this," he says. Hunt says that through his work, he hopes to portray how individual struggles can be overcome through the power of unity, friendship and music.
Learn more about Hunts work here or on Instagram @smylescreative. Purchase a copy of J.W. The Deaf Drummer here.