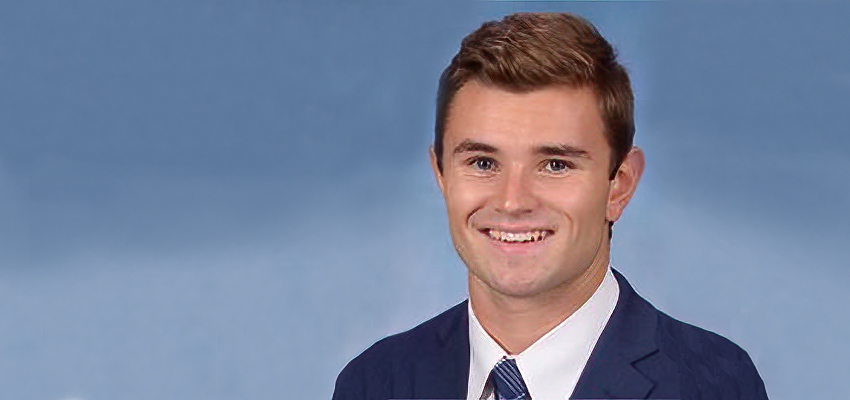 HWS News
8 June 2021 • Alums Hoffman '21 to IHS Markit
Brian Hoffman '21 accepts position on Leads Generation team at IHS Markit.
Graduating cum laude in economics, Brian Hoffman '21 will start a post-graduate position at IHS Markit as an associate sales specialist in their Graduate Program for Financial Services later this month. He will work with the company's Leads Generation team in Manhattan.
IHS Markit's Graduate Program is designed to help new hires transition into the workforce and invest in personal and professional development while working in a full-time position. Through the program, Hoffman will participate in an in-depth training program during which he will learn about the data and information services business and products, and gain knowledge that will assist him in acquiring new business for the company.
"I am interested in this position first because of the really cool products that IHS Markit has to offer," says Hoffman, who minored in mathematics and was a member of the Statesmen football team. "I also love conversing and connecting with people and am a social person in general so I believe that a sales position will suit me well."
Hoffman says his time as an economics major at Hobart and William Smith helped prepare him by not only contributing to his knowledge of financial services but also his personal growth. "I would say that the two most important attributes that I have further developed at HWS are my ability to fit in and collaborate with a number of different diverse groups. And the second being my ability to problem solve and think critically." he says.
Through the Salisbury Center for Career, Professional and Experiential Education, he networked with alums.
"Absolutely, hands down HWS alums and staff at career services were the reason that I initially got my foot in the door at IHS Markit," says Hoffman, offering gratitude to President of Financial Services Adam Kansler '90 as well as Bobby Lewis '19 and Allie Haversat '19 who work in sales at IHS Markit.
"HWS is a great place that has helped me grow significantly as a person and as a professional and for that I am extremely grateful," he says, also noting the benefit of his work as an O'Laughlin Student Ambassador for the Office of Admissions.
Hoffman also held an internship as a strategic assistant at Alliance Advisory Group during which he worked with senior financial advisors and completed a risk and finance internship with Leonard's, a transportation provider.
While at Hobart and William Smith, he also studied abroad in Galway, Ireland.