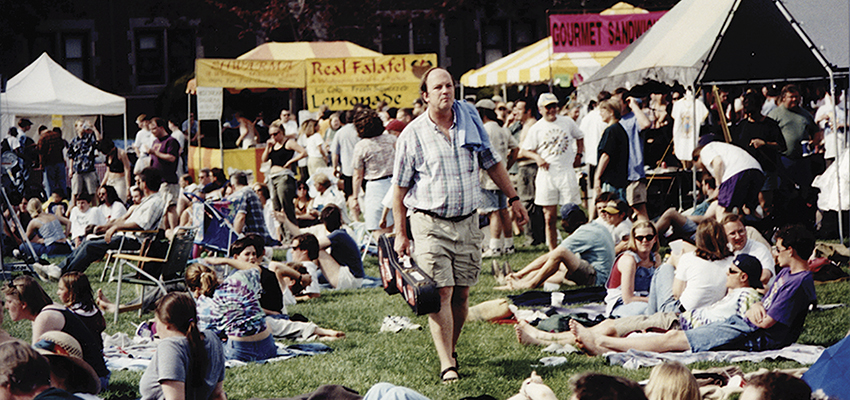 HWS News
19 January 2018 • Alums Hello Old Friend
In the heyday of bellbottoms and music from Bela Fleck and Doc Watson roaring on the Quad, May was synonymous with something more ubiquitous than finals: Folk Fest. Matt Stamell '78 was making it all happen, usually with an acoustic guitar in hand at the center of the Colleges' music scene. Stamell recently released his first studio album Hello Old Friend highlighting the sounds that brought thousands to the Quad each spring.
"I knew I was creating something for the future. Folk Fest was my mark on the Colleges," says Stamell, who founded the 25-year tradition as a sophomore. "This CD has been a lifelong dream."
Recorded in Los Angeles, Hello Old Friend was produced by music industry veteran Craig Eastman, who played Folk Fest for many years in the 1990s and whose resume includes work with Ray Charles, Elton John, Sheryl Crow and Hans Zimmer. The album also features Professor of Education Charlie Temple, who wrote the track Work for Peace. The song originally appeared on the 1980s album Peace Music of the Finger Lakes, a collaboration of several HWS faculty and alums.
Hello Old Friend is available at The College Store and Stamells website. He will also perform live in Greenfield, Mass., on March 22 from 7 to 9 p.m. at Hawkes and Reed. Tickets will be available through stamellstring.com.