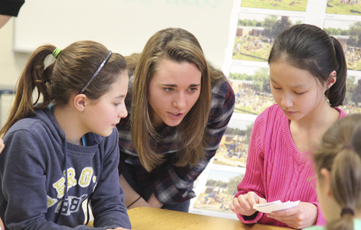 HWS News
9 April 2013 • Service Gove '14 Named Newman Civic Fellow
Hilary Gove '14 has been named a 2013 Newman Civic Fellow by Campus Compact, which honors student leaders who have worked to find solutions for challenges facing their communities. On campus and in the Geneva community, Gove has dedicated her time building playgrounds, tutoring local children, and volunteering at food pantries.
Gove, a public policy major with minors in art history and women's studies, is one of just 181 students from 36 states to be named a fellow.
"Hilary Gove has shown exceptional dedication over the past three years in promoting the well-being of children in our community. She is highly deserving of the honor," says President Mark D. Gearan, who commended Gove's efforts with KaBOOM! During the Colleges' work with the organization, Gove helped raise funds for the West Street Elementary Playground and contributed to the effort of the community playground build this past October.
Gove also dedicated the first semester of her junior year to taking critical look at play and the various ways to promote it as a Community Based Research project (CBR) through the Center for Community Engagement and Service Learning (CCESL). With support from Assistant Professor of Anthropology and Sociology Christopher Annear, Director of CCESL Katie Flowers, and Director of Geneva's Recreation Department Janelle Dracht, Gove used the knowledge she had gained as part of the playground initiative to examine the connection between unstructured play and academic achievement.
In addition to her work on the playground initiative and her CBR, Gove has dedicated countless hours to the Geneva community as a volunteer with America Reads. Gove has acted a tutor and mentor through the program, and served as coordinator, pairing her peers with the children of Geneva.
From East Winthrop, Maine, Gove has served her hometown as a volunteer with the Southern Kennebec Head Start program and the Winthrop Food Pantry. She also served as an intern for Congressman Michael Michaud.
The Newman Civic Fellows award is named for Campus Compact Founder, Dr. Frank Newman, who had a tremendous impact on American education and its role in the development of citizens who are eager and prepared to make a difference.
"Dr. Frank Newman was a tireless advocate for the role of higher education in preparing students for active and engaged citizenship. The 2013 Newman Civic Fellows are an inspiring group of leaders who are already making an impact in communities where they live, learn and serve," said Campus Compact President Maureen Curley.
Campus Compact is a national coalition of nearly 1,200 college and university presidents, representing more than six million students who are committed to fulfilling the civic purposes of higher education. They work to improve community life and to educate students for civic and social responsibility.
The photo above features Gove working with students at North Street Elementary School in Geneva.