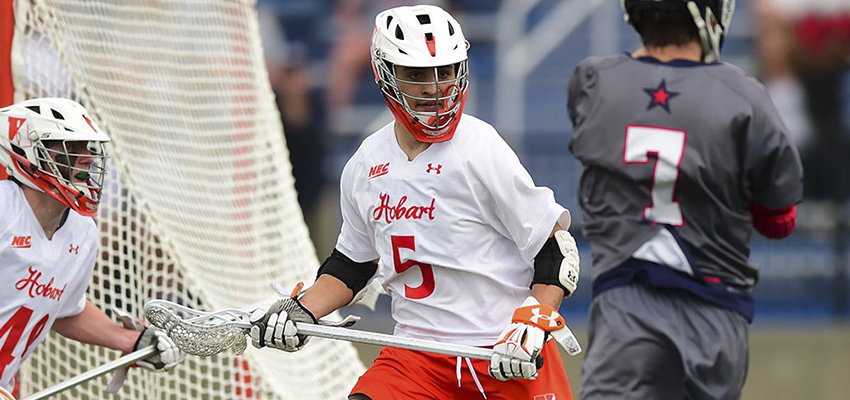 HWS News
13 September 2019 • Alums • Athletics Gilbertson '19 Signs With Outlaws
Stanny Gilbertson and Chris Aslanian graduated from Hobart College just over two months ago, but the Statesmen lacrosse alums are planning a reunion for Saturday, Aug. 3 in the Mile High City. That's when the Denver Outlaws take on the Boston Cannons in Broncos Stadium at Mile High.
A defensive midfielder at Hobart, Gilbertson signed with first place Denver (6-2) on Aug. 1. Aslanian was a second round draft pick of the Outlaws and is fourth on the team and 15th in the MLL with 21 points (14 gls, 7 assts).
A 2019 USILA Scholar All-American and North-South All-Star, Gilbertson compiled 18 goals, nine assists, 62 ground balls and 11 caused turnovers in 59 career games with the Statesmen. His senior season was his best statistically as he produced 10 goals, four assists and 23 ground balls, all career highs. The 2019 first team All-NEC honoree logged a goal and an assist and scooped up a career-high four ground balls at Saint Josephs this season.
Gilbertson was a steadfast defender with tremendous speed and elusive moves that made him a key figure in Hobart's clearing game.
Gilbertson earned a bachelors degree in economics. He was named to the NEC Academic Honor Roll four times and was a two-time Arthur Ashe Jr. Sports Scholar.
Gilbertson, Aslanian and their teammates compiled an 11-5 overall record at Hobart this season, the most wins in a season since the program joined Division I in 1995. The Statesmen were 4-2 in the NEC, finishing second in the league standings. Hobart reached the NEC Tournament Championship game for the third time in four seasons thanks to a 14-13 win over Sacred Heart. The team came up just short of securing its second league title in four years, falling 11-10 to Robert Morris in the championship game.
Several former Statesmen play key roles for MLL teams this season. In addition to Aslanian and Gilbertson, Mike Lazore '10 plays for the Dallas Rattlers. Three of Dallas' coaches are Hobart alums including Head Coach Bill Warder, the 2018 MLL Coach of the Year, Assistant Coach Jacques Monte '90 and Assistant Coach Rich Moses '89. Hobart Hall of Famer B.J. OHara '75 led Denver to the MLL Championship over Dallas last season. This year, OHara is the head coach of the New York Lizards.