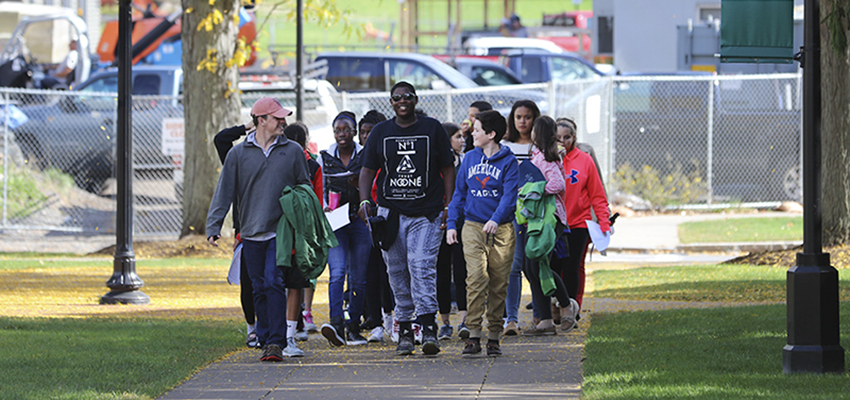 Geneva High School Class of 2021 Visits HWS
6 October 2017

Geneva High School Class of 2021 Visits HWS

For the past six years, students from Geneva City Schools have come to Hobart and William Smith to tour campus, attend informational sessions and explore the Colleges academic offerings, extracurricular activities and residential life. Students make annual visits to campus as second, sixth and ninth-grade students to meet with HWS students and participate in workshops with faculty and staff.

This is a vital component of the Geneva 2020 model that helps ensure the young people in our community have adequate preparation and support for their future success, says President Gregory J. Vincent 83. We are proud and excited to welcome this group of students to Hobart and William Smith.

The campus visit is a cornerstone of Geneva 2020, whichwas founded on the collective impact model, bringing together all facets of the community, including for-profits, non-profits, faith-communities and others to ensure students have the skills they need to graduate from high school and effectively pursue college degrees and careers.After being inspired by StriveTogethers impact in Cincinnati, Ohio, Hobart and William Smith convened with the Geneva City School District and community leaders to establish Geneva 2020.

This years ninth-grade campus visit will begin in Albright Auditorium with a welcome from Amy Jackson-Sellers, Geneva 2020 program coordinator.

The days academic component includes Associate Professor of Art and Architecture Christine Chin presenting an abbreviated lecture from her First-Year Seminar The Art of the Hoax. Students will look at art that uses illusion, deception and hoaxes to help to uncover truths about how we see and the society we live in.

During tours led by the Office of Admissions, students will visit residence halls, the Warren Hunting Smith Library, science facilities and Trinity Hall, which houses the Center for Community Engagement and Service Learning and the Salisbury Center for Career, Professional and Experiential Education.

Director of Residential Education Shelle Basilio-Murray and Res-Ed staff will answer questions about campus life and the HWS community, while a student-led panel will address topics ranging from academics and study abroad to athletics, internships, service and the performing arts.

The visit will conclude with lunch in the Scandling Campus Center, where the high-schoolers will have the chance to speak with HWS students in an informal environment and reflect on the experiences on campus.

Cincinnatis story was featured in the Stanford Social Innovations Collective Article and helped guide the effort in Geneva. With additional support provided by the Chicago-based William G. McGowan Charitable Fund, Geneva 2020 leverages communal resources to introduce students to the skills required to graduate from high school and effectively pursue careers and college.

For Geneva 2020, the Colleges have been recognized with an invitation to theWhite House College Opportunity Day of Action and were one of only four institutions recently recognized as finalists for thePresidents Award for Education Community Service.