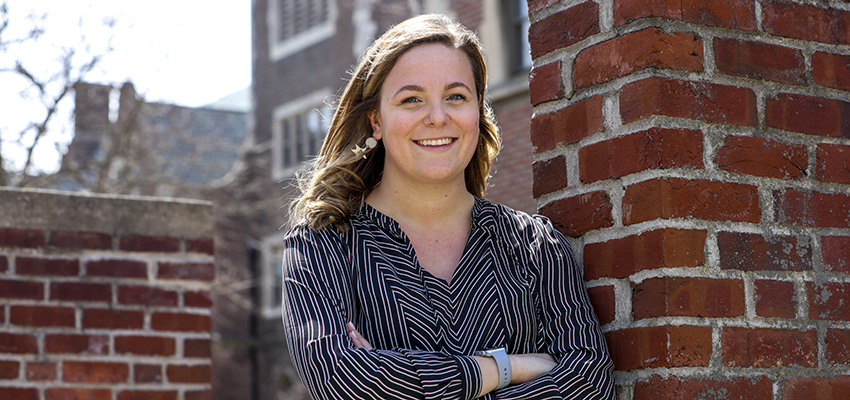 Fulbright Award for Carey ΓÇÖ18, MAT ΓÇÖ19
16 April 2019

Fulbright Award for Carey 18, MAT 19

Alexandra Sasha Carey 18, MAT 19 has earned a 2019 U.S. Student Fulbright Award to Bulgaria, where she will begin an English Teaching Assistantship this September.

Carey, who majored in sociology and education before entering the Colleges Masters program in education, is one of six HWS students to receive at 2019 Fulbright Award. Profiles of the other 2019 recipients will be published on the HWS Update throughout the spring semester.

After World War II, Careys grandmother and great grandparents defected from Bulgaria, leaving behind her grandmothers three siblings. Although she shared bits of her culture with me, I did not fully understand until I visited Bulgaria for the first time in 2014, says Carey, who has remained fascinated with her heritage and her grandmothers culture. Through the Fulbright, she hopes to not only gain more insight into my heritage but how I identify as a Bulgarian-American.

At HWS, Carey completed student-teaching placements at urban and rural schools throughout the Finger Lakes region. She also spent a semester as a teaching assistant at Bathampton Primary School while studying abroad in Bath, England, where she earned a Certificate of Cultural Enrichment.

She recalls that it was in this classroom in Bath that I was able to start answering the question for myself: How can I effectively integrate what I know about my students and their lives into the classroom?

In part, this is what inspired her to apply for the Fulbright Award. Carey says she wants to teach English in Bulgaria for many reasons, but most of all I want to become a part of the community. It will start in the classroom, of course, and extend to all I can do to help all students thrive, but I hope it extends beyond this, perhaps through music, or by starting a volleyball team or through less formal engagements where true relationships are born.

As a student at HWS, Carey has been named to the Deans List, received the Presidents Civic Leadership Award for community-based research and was a team captain in the Colleges intramural volleyball league. She was a 2014-15 Helen Heath Scholar and is the recipient of an HWS Presidential Scholarship. In the Geneva community, she served as an Eye to Eye mentor and Chapter Leader at Geneva Middle School and a volunteer for Geneva Head Start and PAWS Night at North St Elementary School.

The Fulbright Program is the U.S. Governments flagship international exchange program. Created in 1949, the program is designed to increase mutual understanding between the people of the U.S. and numerous nations around the world. Participants are chosen for their academic merit and leadership qualities, and are given the opportunity to study, live, teach and conduct research abroad for one year in order to exchange ideas and seek solutions to shared global concerns.

In 2018, for the third year in a row, Hobart and William Smith were recognized as one of the nations top colleges and universities with the most recipients of U.S. Fulbright Student Awards.

HWS students interested in applying for Fulbright awards should contact the Salisbury Center for Career, Professional and Experiential Education atcso@hws.edu.