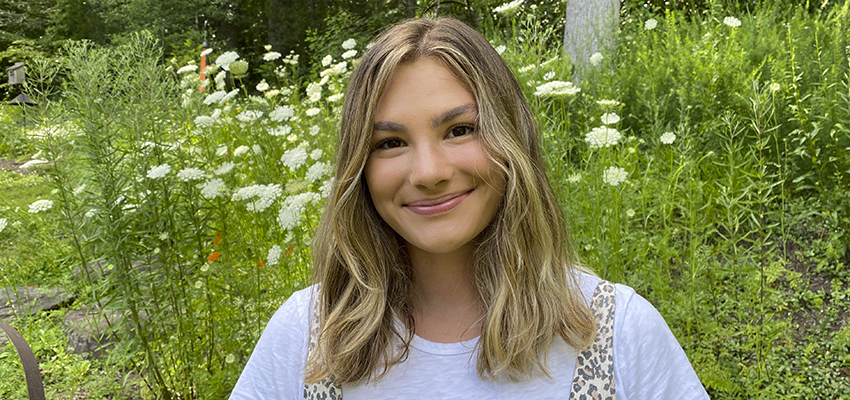 HWS News
12 March 2021 • Humanities Falk '21 to Serve in AmeriCorps City Year
Edie Falk '21 has been accepted into City Year, a nonprofit organization partnered with AmeriCorps, that provides student support to high need urban schools.
In August, Edie Falk '21 will begin work as a mentor and teacher's assistant for AmeriCorps' City Year at a school in Buffalo, N.Y. In the position, she will provide classroom support, run tutoring and homework help sessions, and lead after school activities.
"I plan to become a high school English teacher. The experience I will gain through City Year will be invaluable classroom experience even before I enter graduate school," says Falk, a double major in English and political science.
Falk learned about City Year when she attended an information session programs hosted by the Center for Community Engagement and Service Learning (CCESL) during her sophomore year.
"I am really passionate about the values that the City Year program embodies, including service to a cause greater than oneself and empathy, and their ultimate belief in the students that the program serves," she says. "I think that my liberal arts education will be really helpful as I move into this job. We are never focused on one thing and engage in a lot of teamwork and creative problem solving in our classes. These skills are going to be extremely important to me as I take on this new challenge!"
Through CCESL's Summer of Service internship program in 2018, Falk worked at the Boys and Girls Club of Geneva working with local children.
"The job at the Boys and Girls Club really helped to cement for me that I wanted to work in education," she says. "I loved walking into the building every day knowing that I would get to help students discover new things that they could be passionate about."
Falk is grateful to her mentor Samantha Ruthazer '18, who works as a collection site service specialist at Boston University and was a member of City Year in Boston, and CCESL Director Katie Flowers who she calls "instrumental" in helping her to discover the City Year position.
On campus, Falk has worked for the Office of Spiritual Engagement, is a member of Theta Phi Alpha sorority and HWS Hillel, and participated on the William Smith rugby team and the HWS Figure Skating Club.