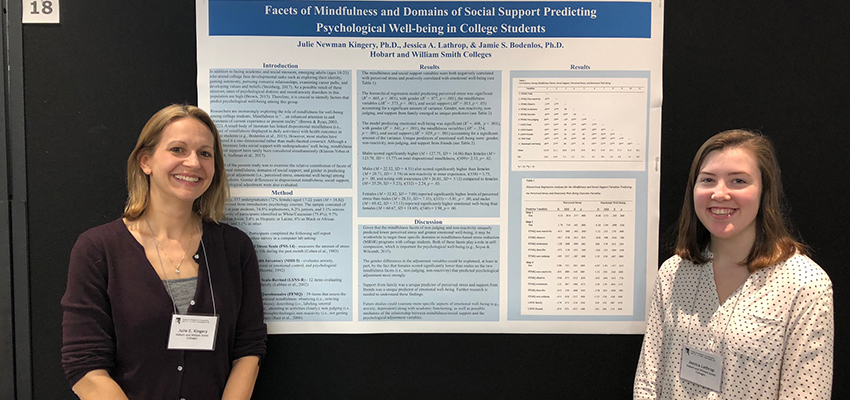 HWS News
21 August 2018 • Alums • Research Exploring the Benefits of Mindfulness
Mindfulness and social support are positively correlated with emotional wellness for college students, according to a new study conducted by Associate Professors of Psychology Julie Newman Kingery and Jamie Bodenlos and Jessica Lathrop '18. The results of the study were recently presented during the Society for Research on Adolescence conference in Minneapolis, Minn.
The datawere collected from 353 students who completed online surveys as part of their introductory psychology class work. Questions like in the past month, how often have you felt confident about your ability to handle your personal problems? gave Lathrop and Kingery insight into how the students perceived their stress levels and emotional wellness.
"Mindfulnessthe ability to be focused on the present momentincludes multiple aspects, two of which, the researchers found, may play a vital role in the lives of college students. Mindfulness can be broken down into different facets. We found that non-reactivity and non-judging were particularly important for low stress and high well-being in college students," says Lathrop.
One possible reason for this, they suggest, might be found in the ability of some people to take a step back to maintain perspective, i.e., to refrain from reacting or judging immediatelyand thus keep stress levels to a minimum in distressing circumstances.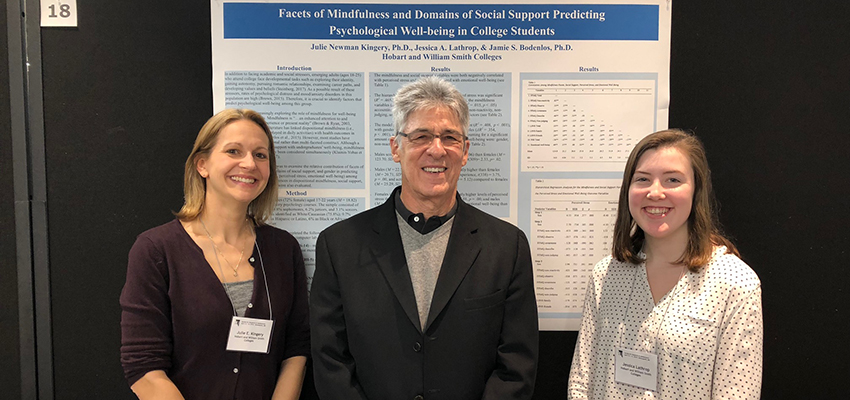 For Lathrop, a psychology and biology major, the independent study, her second under Kingery's guidance, allowed her to gain professional experience, as well as meet HWS Trustee Dr. Stephen L. Cohen '67, who lives in Minneapolis and attended the group's poster presentation. "I am now experienced in completing literature reviews, running statistical tests and writing research papers worthy of publication," she says.
One conclusion reached by the researchers was clear: more work needed to be done to further explore the role of mindfulness in the lives of college students. Kingery says they are already collecting data for a follow-up study that will look at possible variables that help explain the relationship between the multiple facets of mindfulness and psychological and physical health outcomes. "For example, we are measuring mediators such as self-compassion and rumination," she says. "We have more than 200 participants thus far and hope to finish up data collection this fall."
Lathrop, who graduated in May, lives in Greenwich, Conn., and works as a co-teacher at The Greenwich Country Day School.
Cohen is the founder and principal of Strategic Leadership Collaborative, Inc.