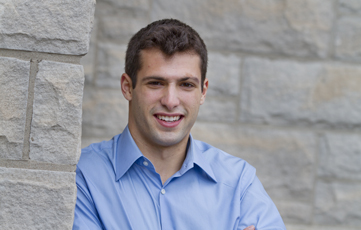 HWS News
30 March 2012 • Service Durand '13 named Civic Fellow
Raphael Durand '13 has been named a 2012 Newman Civic Fellow by Campus Compact. This award honors college student leaders who have worked to find solutions for challenges facing their communities. Durand is one of just 162 students from 32 states who has been named a Civic Fellow.
"These students represent the next generation of public problem solvers and civic leaders. They serve as national examples of the role that higher education can -and does- play in building a better world," notes Campus Compact Board Chair James B. Dworkin, chancellor at Purdue University, North Central.
In a release announcing the recipients, Durand was said to demonstrate "the type of civic engagement that sets an example for others, shining a positive light in a time when negativity has dominated much national conversation."
As the junior class president and vice president of Kappa Sigma, leadership and service permeate Durand's co-curricular commitments. Over the course of the past three years, he has served as a mentor and coordinator of the Geneva Heroes, which pairs Geneva Middle and High School students with Hobart and William Smith students through direct service, leadership, reflection and team-building activities.
An international relations major and economics minor, Durand is an Orange Key Honor Society member and a Hobart Dean's Scholar. He is involved with the HWS Leads Certificate program, served as an Orientation Leader for the Classes of 2014 and 2015, and is a Rape Prevention and Masculinities Facilitator.
The Newman Civic Fellows award is named for Campus Compact Founder, Dr. Frank Newman, who had a tremendous impact on American education and its role in the development of citizens who are eager and prepared to make a difference.
"Dr. Frank Newman dedicated his life to creating systemic change through education reform and this new group of Newman Civic Fellows would have inspired him. They are reflections and affirmations of his life's work,"said Campus Compact President Maureen Curley.
Campus Compact is a national coalition of nearly 1,200 college and university presidents, representing more than six million students who are committed to fulfilling the civic purposes of higher education. They work to improve community life and to educate students for civic and social responsibility.