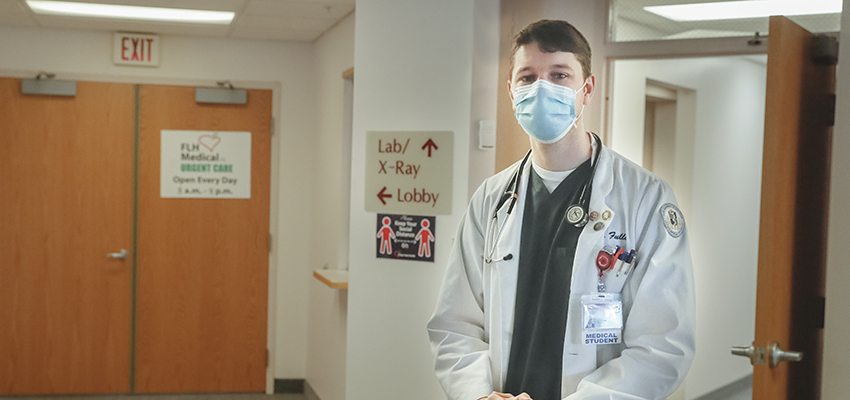 HWS News
3 September 2021 • Alums • STEM Discovery During Medical Rotations
Tyler Fuller '18 is finishing his fourth year in medical school at SUNY Upstate Medical University's Rural Medical Scholars Program. He completed his pediatrics, emergency medicine, family medicine and surgical rotations in the Finger Lakes.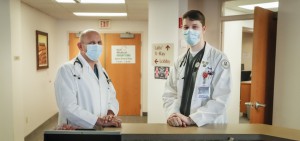 At the height of the pandemic, Tyler Fuller '18 continued to pursue his goal of becoming a physician in order to provide care for rural communities, who often have scarce access to medical care.
As a third-year medical student at SUNY Upstate Medical University's Rural Medical Scholars Program (RMED), Fuller completed his emergency medicine, family medicine and surgery rotations at Geneva General Hospital in Geneva, N.Y. and Soldiers and Sailors Memorial Hospital in Penn Yan, N.Y.
Fuller then completed his pediatrics rotation at Lifecare Medical Associates in Seneca Falls, where he had the opportunity to learn from fellow alum, Dr. Philipp Wirth '96. Wirth specializes in internal medicine in adolescent, adult and geriatric patients.
"Dr. Wirth is a wonderful family physician, and a very charismatic and light-hearted provider that brings smiles wherever he goes," Fuller says. "He is a great mentor and I look forward to using what I have learned from him with my own patients in the near future."
Completing his rotations during the pandemic "allowed me to be at the forefront of a changing landscape of medicine," he says. "Every week we were learning something new alongside physicians who were learning some of these things for the first time as well. We were able to witness evidence-based medicine changing how we treat and care for our patients."
Through the RMED program, Fuller's first two years of medical school were supplemented by rural medicine-based lectures each month from community preceptors throughout New York State. He also participated in Rural Immersion Week in Lowville, N.Y., where he lived for a week, shadowing physicians and interacting with the community.
Fuller is the recipient of the competitive National Health Service Corps Scholarship awarded to students pursuing primary care health professions training. In return, scholars commit to provide primary care health services in Health Professional Shortage Areas.
At the Colleges, Fuller majored in biochemistry and Spanish and Hispanic Studies. On campus, he served as an EMT and held a research assistant position. He also served as a Student Trustee and studied abroad in Seville, Spain.
In the photograph above, Fuller wears three pins on white his lab coat, including: a Hobart College pin, a William Smith College pin, and a 9/11 Memorial Glade pin, in honor of the responders, recovery workers, residents, and survivors who are suffering and dying from illnesses and injuries caused by exposure to toxins and hazardous conditions at Ground Zero.