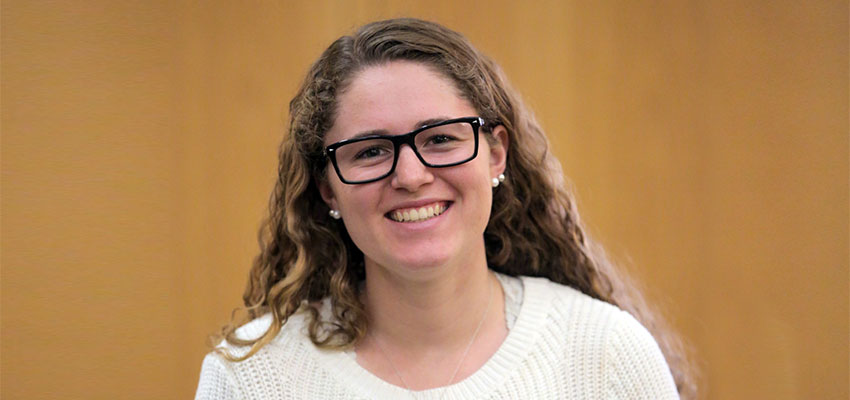 HWS News
23 March 2021 • Alums • Humanities Delayed but Determined: Linden '20 to Serve in Peace Corps
In celebration of the Peace Corps' 60th anniversary, we checked in with HWS alums who, due to COVID-19, were serving abroad and called home, or whose plans have been delayed.
Annika Linden '20 was supposed to leave last September to serve in the Peace Corps' Youth Development program in Morocco. When the organization shut down operations to accommodate pandemic regulations, the program was delayed until March 2021 — and the timeline is still up in the air. While Linden has withdrawn from the Peace Corps for now, she hopes to be able to serve in the future.
"I'd been planning for this since my sophomore year of college," say Linden. "Now it's a change of plans and everything I've worked for. I hope to serve someplace as soon as things are open and safe to go back." In the meantime, Linden is moving to Washington, D.C. and hopes to make an impact domestically. She has accepted a position at the consulting firm Bates White, where she will serve as a project assistant in the environment and product liability department.
For Linden, much of the appeal of the Peace Corps lies in the opportunity to connect with a new community, as she's always been interested in traveling and seeing another country not as a tourist but as a local. "My anthropology classes opened up my passion for learning about different cultures," she says. "The Peace Corps would allow me to do that while also helping to make an impact on the community that I'd be working with."
Linden credits the Colleges with not only providing her experiences to prepare her to take on the challenge of volunteering with the Peace Corps, but with valuable mentors, such as Associate Professor of Anthropology Christopher Annear and William Smith Rowing Head Coach Sandra Chu. The campus community has also been a great support to her. "The friends that I met at HWS taught me that I can be home no matter where I am because of the people that I surround myself with," she says.
The Colleges' emphasis on community service and its close relationship with the Peace Corps also factored into Linden's decision to pursue service. She met with Anne Tatarsky, a Peace Corps recruiter for Western New York, when she visited campus. "I was able to make those connections beginning in my sophomore year, so she knew I was serious and would help in the process," Linden says.
"One piece of advice I'd give someone who wants to serve in the Peace Corps is to do your research," she says. "Know where you want to serve and what sector you want to work in. Use the HWS connection to talk with alums. It's been really helpful to talk to someone who I had shared experiences with at HWS and who had firsthand experience in the Peace Corps."
An anthropology major and environmental studies minor, Linden was a member of the William Smith rowing team, an Athletic Study Mentor, an Orientation mentor and a student eco-representative. She also studied abroad in Thailand.