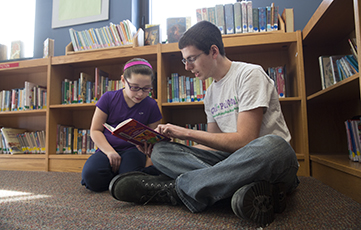 HWS News
6 May 2015 • Alums DeBenedetto '16 Awarded State Dept. Critical Language Scholarship
The latest HWS student to earn a Critical Languages Scholarship for Intensive Summer Institutes (CLS) from the U.S. Department of State, Charles DeBenedetto '16 will spend the summer of 2015 in Xi'an, China, where he will undertake an intensive Chinese language program at Shaanxi Normal University.
The CLS Program was launched in 2006 as an overseas language and cultural immersion program for American undergraduate and graduate students. The program — run through the State Department's Bureau of Educational and Cultural Affairs and administered by the Council of American Overseas Research Centers and the American Councils for International Education — will fully fund DeBenedetto's experience this summer, which begins with an orientation in Washington, D.C. prior to his departure in early June.
"Through the Critical Languages Scholarship, the State Department is investing in me to become better at Mandarin Chinese," says DeBenedetto, who first learned about the CLS program through his adviser, Assistant Professor of History Lisa Yoshikawa.
The CLS Program seeks to broaden the base of Americans studying and mastering critical languages and building relationships between the people of the United States and other countries. Noting the other CLS Programs in more than a dozen languages, DeBenedetto says, "Any foreign language learner should be sure to check out this wonderful opportunity. Learning a foreign language truly does open your world."
A double-major in international relations and Asian studies with a minor in music, DeBenedetto studied abroad in Taiwan during the fall semester of 2014 and was invited to attend the Technos International Week in Japan in the summer of 2014.
"In Taiwan, I met and befriended many people with whom Chinese was our only common language," he says. "If I had not begun to study Chinese, I would never have been able to connect with them. That is a powerful thing, and because of that I encourage anyone to study a foreign language."
DeBenedetto is a residential assistant on campus and is an America Reads tutor at Geneva's West Street School. He was awarded the Drum Major for Service Award for his commitment to service in January 2014.
DeBenedetto is the sevemtj HWS student to earn a CLS since the program's inception, following in the footsteps of Harris Goldman '08, Chelsea Hudson '12, Emma Pierce-Schell '12, Nathaniel Shils '13, Howard Kouan '14 and Melissa Hosek '14.
The photo above features Charles DeBenedetto '16 working as an America Reads tutor.