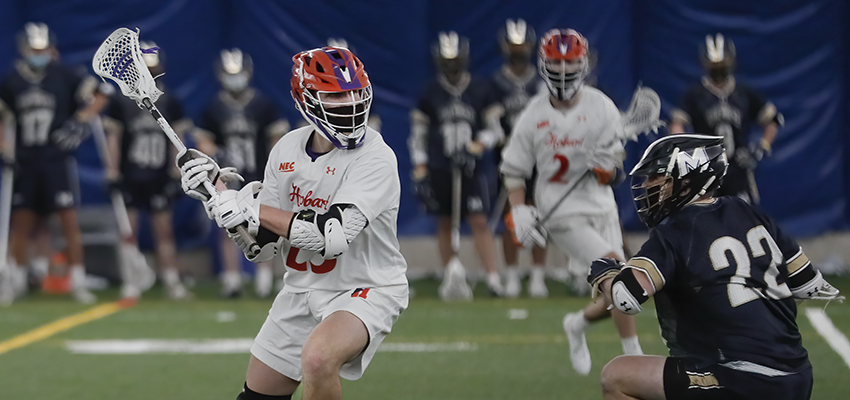 HWS News
19 March 2021 • Athletics Dattellas '24 Named Rookie of the Week
Hobart College first-year attackman Anthony Dattellas was named the Northeast Conference Rookie of the Week today. He and sophomore midfielder Adam Shea were also tabbed NEC Prime Performers for the week.
Dattellas produced his first career hat trick at LIU on Saturday. He netted a pair of extra-man goals in the fourth quarter and leads the team in that category. Dattellas is tied for the team lead with five goals this season.
Shea dominated the faceoff X on Saturday, winning a career-high 22-of-30 at LIU, while corralling a career-high matching 12 ground balls. His 22 faceoff wins are tied for third on Hobart's Division I era single-game list. Shea leads the NEC in faceoff winning percentage (.725, 5th in the nation) and ground balls per game (11.5, 2nd in the nation).
Hobart suffered its first loss of the season at LIU, dropping a 14-12 decision to the Sharks on their home field. The 1-1 Statesmen will head to Mount St. Mary's (1-5, 0-1) for a 1 p.m. faceoff on Saturday, March 20. Hobart opened the season with a 13-9 win over the Mountaineers.