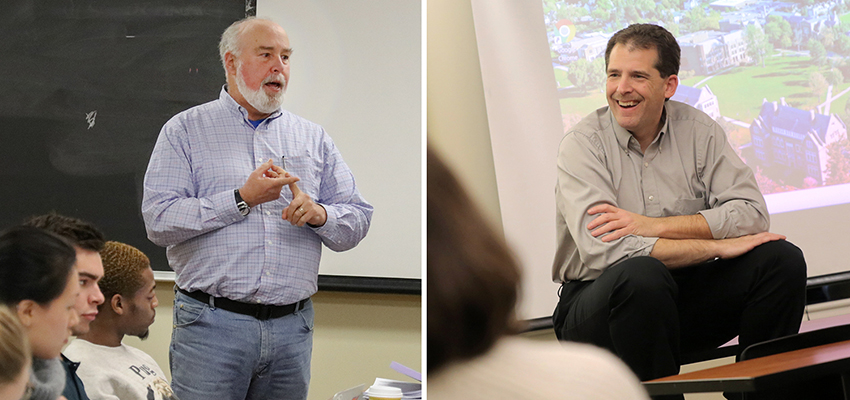 DΓÇÖAgostino and Harris Present 2018 Kinghorn Lecture
21 August 2018

DAgostino and Harris Present 2018 Kinghorn Lecture

This years John R. and Florence B. Kinghorn Global Fellows will unveil the findings of their yearlong study of the lasting effects of the Colleges program in global education on Monday, April 30.

Thomas DAgostino, associate dean for global education, and Jack Harris P02, P06, professor and chair of sociology, will present Alumni Voices: How Study Abroad Impacts the Lives of HWS Graduates beginning at 5 p.m. in Stern Hall, Room 103.

Surveying HWS graduates who studied abroad, DAgostino and Harris set out to explore the facets of two primary questions: How does participating in study abroad impact the lives of our graduates? How do we understand this in the context of the larger research on the effects of study abroad?

The results, they explain, are consistent with the findings of larger studies in the field of international education students credit study abroad as transformative, affecting their personal and professional lives, and fostering resiliency and interest in seeking out persons and cultures different from their own.Survey responses also illustrated the impressive range of experiences our alums have had that were connected in some way to study abroad.

The lecture is free and open to the HWS and Geneva communities.

Established in 1970 and generously endowed by Dr. and Mrs. William Reckmeyer in honor of John Readie and Florence B. Kinghorn, the fellowship honors outstanding faculty at HWS who have exemplified global citizenship on a continued basis.

Read more about the Kinghorn Fellowship and previous fellows.

DAgostino oversees the HWSCenter for Global Education, which was namedthe No. 1 study abroad programin the countryinPrinceton Reviews 2018 edition of The Best 382 Colleges.In facilitating the internationalization of the HWS campus community, DAgostino collaborates with faculty across the institution to develop new off-campus programs, to evaluate existing programs, and to ensure the academic integrity and quality of all HWS abroad programs. In addition, he participates in a variety of the Colleges pre-departure and reentry programming such as the Digital Storytelling Workshop andThe Aleph: a journal of global perspectives.

DAgostino holds a B.A. in political science and Spanish from St. John Fisher College and earned an M.A. and Ph.D. in political science from the Maxwell School of Citizenship and Public Affairs at Syracuse University. In addition to his work in international education, he is co-author (with Richard Hillman) ofDistant Neighbors in the Caribbean: the Dominican Republic and Jamaica in Comparative Perspective,Understanding the Contemporary Caribbean,andUnderstanding Contemporary Latin America.

Harris, who joined the HWS faculty in 1974, teaches a range of internationally oriented courses in sociology, often focusing on Vietnam. Among his many academic experiences abroad,Harris has served as the core director of World Regional Geography for the Semester at Sea Program, twice directed the London, England Semester Abroad Program, twice directedthe VietnamSemester Abroad Program, directed the Rome, Italy Semester Abroad Program, and directed the Social Entrepreneurship program through ThinkImpact in Panama.

Harris research focuses on men and masculinity inVietnam and the experience of Vietnamese as they go through massive economic and social change. As an applied sociologist, Harris consults with local governments across the United States on business process reengineering, change management, andmunicipal information technology. He holds a B.A. from Tulane University and M.A. and Ph.D. from the University of Pennsylvania.